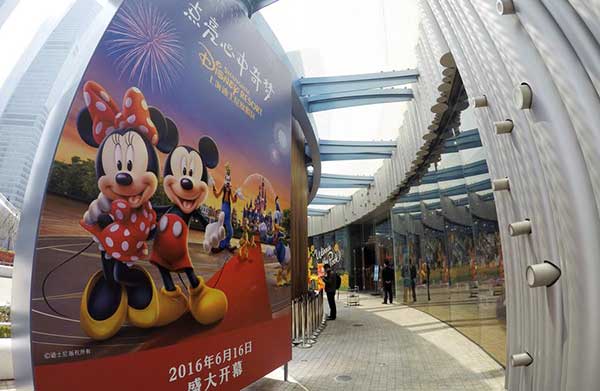 The Shanghai Disney Resort is Disney's sixth resort worldwide.[Photo/Xinhua]
That the official website of Shanghai Disney Resort crashed on Monday, shortly after it began selling tickets for its opening day on June 16, fully testifies to the popularity of any well-designed tourist attraction.
It is a hard-won achievement for Disney theme parks to remain so popular after the first one opened six decades ago. Their popularity shows good tourist attractions do not need to be based on famous mountains and rivers, or historic architecture, and that those based on novel ideas and continuous innovation can maintain their popularity.
The opening of the Shanghai Disney Resort, Disney's first theme park in the Chinese mainland, is expected to further promote the development of the tourism market in Shanghai and other parts of the country.
The domestic tourism industry in a country will boom after its economic development reaches a certain level and people have enough disposable income to spend on travel and leisure experiences, rather than having only enough money to meet their basic needs. As an increasing number of Chinese people travel abroad, Shanghai, as a longtime domestic tourist destination, faces the challenge of how to develop new tourist products to retain its attractiveness to the ever-expanding options for Chinese travelers. In this sense, the opening of the Disney theme park and its smooth operation will help reinforce Shanghai's image as one of the top tourist destinations in China.
What Shanghai should now focus on is how to efficiently run the theme park, its commercial derivatives and related services, to boost its entire tourism industry. To increase its popularity and competiveness, Shanghai also needs to work hard to prevent tourists being cheated, something that has been encountered in other popular tourist destinations. The lasting popularity of the Disney theme parks comes from their endless innovations and their ability to cater to the changing tastes of tourists and this should offer lessons to the operators of domestic tourist attractions.