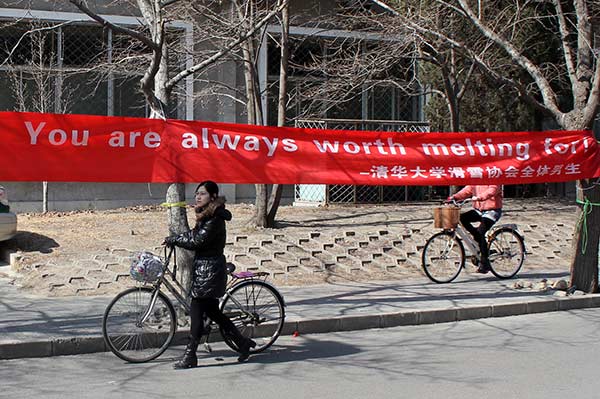 Male members of a skiing association at Beijing's Tsinghua University hang a banner on campus to celebrate Girls Day on March 7, 2014. [Photo by Wang Zhuangfei/China Daily]
The sexist messages have angered many, but the real culprit is pop culture that scorns women who make unconventional choices and stigmatizes them as an appendage of wealth and status.
March 8 as International Women's Day is facing a unique hurdle: Its Chinese acronym, sanba, is a homonym for a busybody and the Chinese translation for women here is a very formal word that emphasizes the status of marriage.
With such linguistic baggage, no wonder it has seen a rival in the form of parody. Women students in China increasingly celebrate March 7 as Girls Day. As the joke goes, it takes just one day for a girl to become a woman.
Online sources say that the trend started in 1986 at Shandong University. And one of the main activities, it seems, is male students hanging out giant banners extolling their female peers.
This year, Girls Day caught public attention when some of the campus slogans crossed over from humor and fun to outright obnoxiousness. There were various couplets that express young men's urge to get their "goddesses" into bed and even puns on sexual positions. OK, here is a relatively clean one, maybe fit for print in this paper: "The first time I saw your face, porn vanished from my place."
Many women were indignant, and rightly so. Yet I do not believe the guys intended sexual harassment. It could well be that they could not distinguish between a good joke and a dirty one and instead saw the occasion as a kitchen sink where they could pour out anything from their libido-heavy minds.
Humor may be a human instinct, but expressing it appropriately does not come naturally to everyone. It's an ability that taps into both in-born genius and well-honed craft.