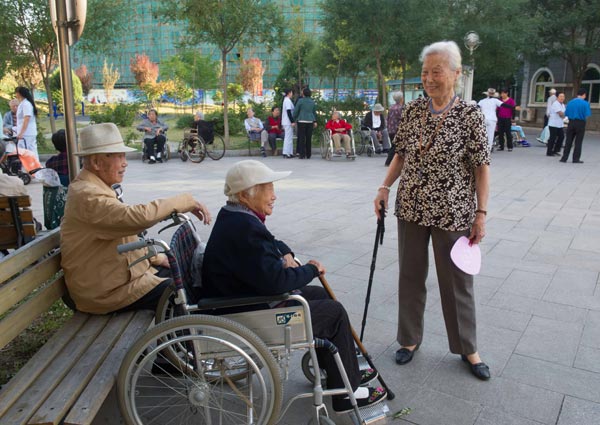 Senior citizens chat at a retirement home in Beijing. [Photo/Xinhua]
The China Association of Social Security and People's Publishing House jointly released the 2016 China Social Security Development Report recently. The report points out the ever-increasing pension gap between the employees of private companies and State employees and the public concern this has caused.
According to the report, since 2005, the Chinese government has continuously increased the pensions of employees in the private sector by more than 10 percent every year, in order to narrow the pension gap with State employees.
However, the pensions of employees in administrative organs and public institutions have increased faster than those of private sector employees. After 11 years, the pensions of the former are more than twice the pensions of the latter.
Employees of administrative organs and public institutions are mainly paid by national finances, but there is no specific regulation covering annual rises in civil servants' pensions every year. The remarkable pension gap is due to the unreasonable increase in civil servants' pensions, which should be justified and regulated.
The ever-increasing pension gap should be curbed, and unification of the two pension systems is crucial to realize that goal and achieve fairness.
Meanwhile, the government should also make more efforts such as easing the tax burden on enterprises so they can increase the pensions of their employees.