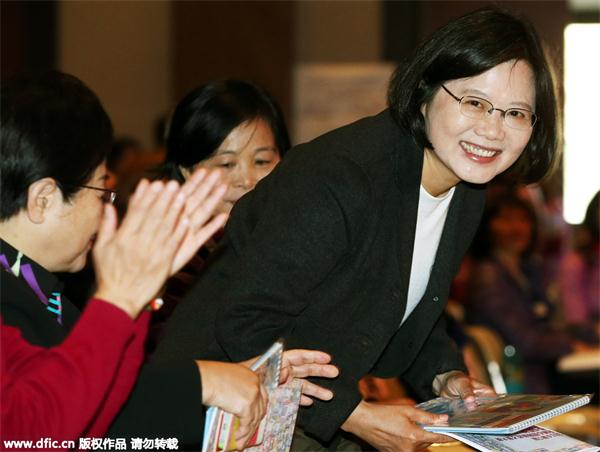 Democratic progessive party leader Tsai Ing-wen attends to the talent competition of children with mental disabilities in Taiwan. [Photo/IC] 
The victory of Democratic Progressive Party leader Tsai Ing-wen in Taiwan's "presidential" election on Saturday may bring short-term uncertainty to cross-Straits relations, but it does not necessarily mean the positive momentum that has built up between the mainland and Taiwan over the past eight years will be reversed.
The peaceful development of relations reflects the public will on both sides of the Straits and has tremendously benefited both Taiwan and the mainland. Any attempt to reverse this trend will be futile.
The defeat of the ruling Kuomintang in the election was caused by such internal issues as administrative lapses, rising unemployment and the widening wealth gap, not the party's mainland policy.
Cross-Straits relations have never been so closely intertwined. The mainland has become Taiwan's largest trading partner, accounting for 40 percent of the island's exports, and for every 10 tourists who visited Taiwan last year, four were from the mainland.
The peaceful situation across the Straits has not come easily, given the fact that the two sides are still technically at war after the civil war ended in 1949 without a peace treaty. If it was not for the 1992 Consensus on one China, which is the cornerstone for cross-Straits relations, peace and stability across the Straits would have been impossible.
Tsai has yet to accept the consensus, though she says she wants to maintain the "status quo". Her mainland policy remains ambiguous, and it will take some time for people to understand what a "consistent, predictable and sustainable" cross-Straits relationship, which she says she will pursue, actually means.
Yet she has a responsibility to keep the peaceful development of cross-Straits relations on track. The future development of the cross-Straits situation, to a large extent, depends on where Tsai will steer the island. A wise and capable leader uses his or her power to maximize the well-being of the people, instead of being hijacked by populism.
The Taiwan question has come into being because of the complicated historical context. It is China's internal issue and it must be left to the Chinese to solve it. As President Xi Jinping put it, "We are brothers connected with flesh. We are a family whose blood is thicker than water."
The mainland has shown great sincerity and patience in seeking to find all possible ways to solve this "family affair".
It is now Tsai's turn to reciprocate.