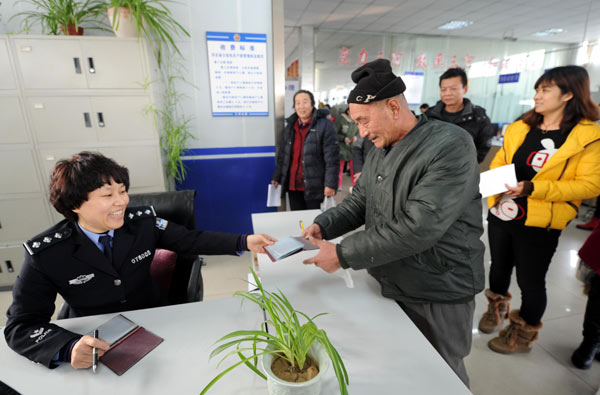 A man's hukou (household registration) is transferred at a government service center in Sanhe, Hebei province. [Photo/Agencies]
South China's Guangdong province has finally extended its hukou, or household registration, recognition to a large number of unregistered local children. It is to be hoped the removal of the attached conditions that can disqualify children from receiving a hukou can also be popularized in other parts of the country as soon as possible to incarnate the "people-first" principle and the concept of "all people are equal".
Guangdong has witnessed a peak in its hukou registrations since July when the authorities reiterated that such conditions as whether or not a child's parents have been granted a family planning certificate are no longer a precondition for a hukou.
Given that parents who give birth to more than one child when they are not allowed to under the national family planning policy may not have such a certificate, some children have previously remained unregistered.
The national census in 2010 found there are a total of 13 million unregistered people nationwide, 1 percent of the country's total population. Without a hukou, a person will be denied access to compulsory education, reimbursement for healthcare expenditures, and will be unable to receive other welfare.
The rigid linking of the household registration to such rights has brought extreme inconvenience, troubles and even tragedy to those without a hukou. A farmer in Guizhou province committed suicide in March last year after four of his extra children were denied admission to school because he could not pay a total of 22,500 yuan ($3,545) in fines.
Everyone should be entitled to an education and access to the country's welfare programs. Guangdong's cancellation of the unreasonably restrictive conditions previously set on the hukou marks a belated step toward restoring the basic rights people should be entitled to. Other regions in this country should follow suit.