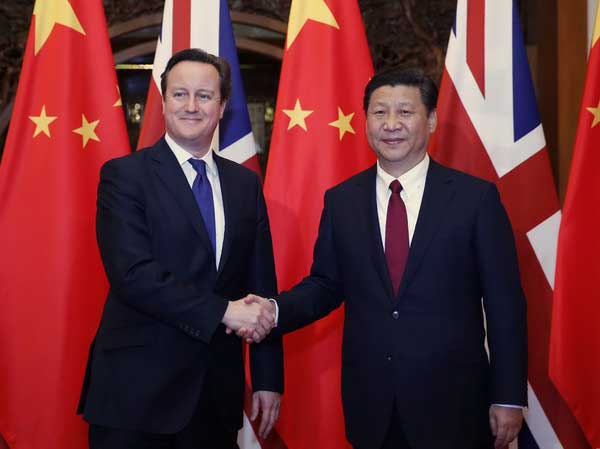 President Xi Jinping shakes hands with visiting British Prime Minister David Cameron in Beijing, Dec 2, 2013. [Photo/Xinhua]
Xi Jinping's state visit to Britain from October 19 to 23 is important itself, but it also illustrates clearly the basis for mutually beneficial relations between very different countries. The visit is also part of a process showing the principles by which differences between countries should be overcome.
Contemporary China and Britain differ strikingly. China is the world's largest country by population, the world's second-largest economy at current exchange rates, the world's largest economy at Parity Purchasing Powers (PPPs) and a country which has not only been increasing in weight in the world but is clearly only at the beginning of its rise.
Britain has approximately one twentieth the population of China, being an 'upper medium' country by that measure- 22nd in the world. Britain remains a significant economy but is outside the 'super heavyweight' league of the US and China – Britain's GDP ranks 5th in the world at current exchange rates and 10thin PPPs.
For many centuries Britain was the world's largest economy and most powerful state, but this position has now been taken by the US and increasingly by China. However due to its long period of development Britain retains a standard of living China is still developing towards – Britain's per capita GDP in PPPs is almost three times China's.
But these striking differences draw attention to the fact that, understood from a fundamental viewpoint, it is not the similarity of nations that can provide the most fruitful interaction but their differences. Xi Jinping's visit will illustrate that.
To start with the economic differences, China is now the world's largest industrial producer, having overtaken the US, the world's largest goods trading nation, and runs a large surplus on manufactured trade. Britain has undergone one of the sharpest declines of manufacturing as a proportion of its economy of any country and has been running a deficit on manufactured trade for many decades, but has a large trade surplus in financial and other services.
Even within manufacturing the contrast is striking – Britain's remaining manufacturing sector is concentrated in very high value added products, such as pharmaceuticals, while China is by far the most efficient world producer of an increasingly broad range of manufactured products. The result is that the two economies are complementary rather than directly competing – a vivid illustration of international trade principles of division of labour and comparative advantage.
Due to these complementary features economic interaction between the two countries is dynamic. Britain is China's second largest EU trading partner, while China is Britain's fourth largest trading partner. Britain is the second largest receiver of China's foreign investment within the EU and also the second largest EU investor in China. Trade between the two countries in 2014 rose by 15 percent.
There is therefore no doubt what constitutes an economic 'win-win' solution for both sides. Britain sees big opportunities to use its skill and international position in global financial services to win business from China. London is the world's largest centre for foreign exchange dealing – bigger than New York and Tokyo combined. This puts Britain in a strong position to win business from China in establishing the RMB as an international currency – a development which is also in China's interest. It is reported London will become the first centre outside China in which Chinese government RMB denominated debt will be issued.