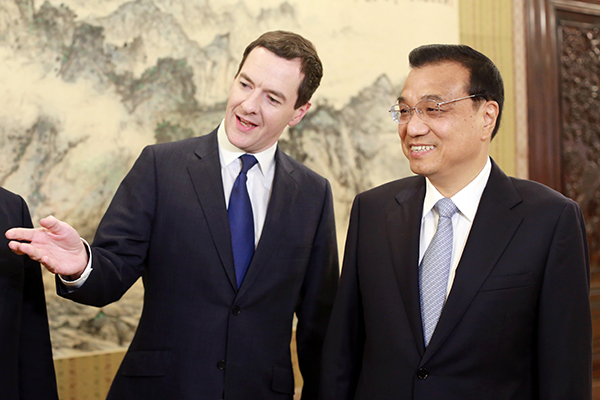 Premier Li Keqiang meets with British Chancellor of the Exchequer George Osborne in Beijing on Monday. The agreements at the China-UK Economic and Financial Dialogue are "a great example for international collaboration on the infrastructure of the future", Osborne said. [Photo/China Daily]
Nations pave way for cooperation on two nuclear power plants, high-speed railways
Increased Chinese involvement in the United Kingdom's push for more nuclear power plants and high-speed rail is on track as Beijing and London synergized their own strategic plans at a keynote dialogue in Beijing on Monday.
China and the UK endorsed 53 agreements at the 7th China-UK Economic and Financial Dialogue, covering a range of sectors including nuclear energy, infrastructure, trade, finance and space programs, ahead of President Xi Jinping's visit to the UK in October.
British Chancellor of the Exchequer George Osborne, who led the UK delegation to Beijing, said the commitment of a $3 billion guarantee to underwrite Chinese financing of the Hinkley Point nuclear power station would pave the way for further deals, which could see majority Chinese ownership of another nuclear plant at Bradwell in Essex.
In addition, the countries agreed to encourage more businesses and financial institutions to take part in Britain's plans for high-speed rail, especially in northern England, according to a circular issued by the Chinese government. This is part of London's "Northern Powerhouse" strategy to revitalize areas of northern England.
The joint development of the next generation of nuclear power plants will benefit China and the UK, Osborne said.
"It is good for Britain because it provides secure, low-carbon electricity going forward ... It is good for China as well, for Chinese nuclear companies to invest for the first time in a major Western project.
"China is most experienced in building high-speed lines, and we want to make sure that Chinese companies can bid into the contracts," he said.
Vice-Premier Ma Kai said at the dialogue that Beijing's Belt and Road Initiative and London's "Northern Powerhouse" strategy are key components of plans to boost northern England and are complementary.
The possibility of a China-UK Infrastructure Alliance to further boost cooperation on infrastructure in each other's countries and in third markets will be discussed, as the two governments are seeking synergies.
Andrew Shepherd, senior power and renewables analyst at BMI Research, said the guarantee is a signal that Britain is still committed to nuclear energy, and this would help to give confidence to the French and Chinese investors.
"For a large project like Hinkley, to have a guarantee for some of the early-stage investment is helpful for investors, as it reduces the level of risk they have to bear," Shepherd said.