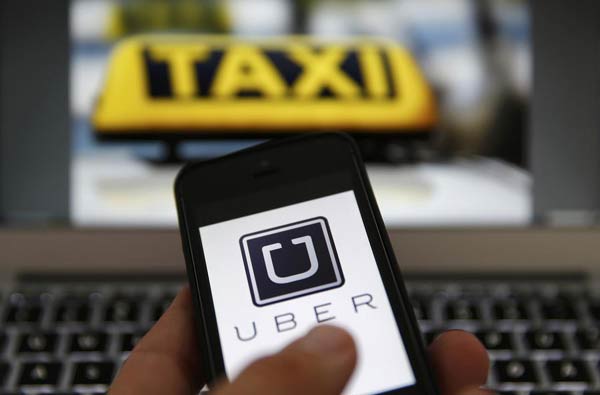 A file illustration picture shows the logo of car-sharing service app Uber on a smartphone next to the picture of an official German taxi sign in Frankfurt, September 15, 2014. [Photo/Agencies]
US-based taxi app provider Uber has been frequently hitting the headlines in recent months for being the target of regulatory crackdowns or law suits with regulators and taxi companies in a number of cities outside the US. In the latest incident, its office in Guangzhou, South China's Guangdong province, was raided in late April by police, and transport, industry and commerce authorities, casting a shadow on its operation in the world's largest consumer market.
According to media reports, regulators seized iPhones and documents from the Uber office for its failure to abide by taxi management rules. The ride-sharing service provider allegedly hires unlicensed private vehicles for business, which is illegal in China.
The seizures have sparked online protests from regular users of Internet-based taxi-hailing services. And the move will pacify unhappy taxi drivers who serve traditional taxi companies.
Since the emergence of online taxi-hailing app companies last year, many taxi drivers have complained that their incomes have been slumping. In some cities, some of them even stopped operating and blocked the roads, raising concerns of regulators over social stability.
Apparently, such concerns have something to do with the decision-making of Guangzhou regulators.
Uber, however, is not the sole target of regulatory crackdowns. China's two market-dominating taxi-hailing app companies, Kuaidi Dache and Didi Dache, have also been subjected to regulatory checks after their fast expansion led to protests from taxi drivers in some cities. The regulatory clampdown is obviously targeted at the taxi-hailing and ride-sharing businesses, which in the Internet era have brought convenience to consumers and optimized market resources but "moved the cheese" of traditional taxi companies.
If Uber's operations in China are indeed problematic, such as engaging unlicensed private vehicles, it is fair for the company to be punished in accordance with China's laws. But such Internet-based companies should by no means be pressured to shut down to serve the interests of traditional taxi companies. Regulators should realize that such companies benefit consumers and society as a whole by providing convenient services and rebalancing social resource distribution.