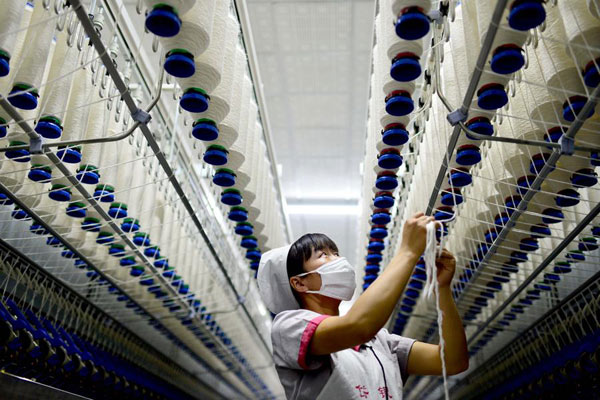 A worker at a textile company in Shandong, Oct 21, 2014. [Photo/Xinhua]
After more than 30 years of extraordinary growth, the Chinese economy is shifting onto a more conventional development path - and a difficult rebalancing is underway, affecting nearly every aspect of the economy.
For starters, China's current account surplus has shrunk from its 2007 peak of 10 percent of GDP to just over 2 percent last year - its lowest level in nine years. In the third quarter of 2014, China's external surplus stood at $81.5 billion and its capital and financial account deficits amounted to $81.6 billion, reflecting a more stable balance of payments.
This shift can partly be explained by the fact that, over the last two years, developed countries have been pursuing re-industrialization to boost their trade competitiveness. In the United States, for example, manufacturing grew at an annual rate of 4.3 percent, on average, in 2011-2012, and growth in durable-goods manufacturing reached 8 percent - having risen from 4.1 percent and 5.7 percent, respectively, in 2002 and 2007. Indeed, the US' manufacturing industry has helped to drive its macroeconomic recovery.
Meanwhile, as China's wage costs rise, its labor-intensive manufacturing industries are facing increasingly intense competition, with the likes of India, Mexico, Vietnam, and some Eastern European economies acting as new, more cost-effective bases for industrial transfer from developed countries. As a result, the recovery in the advanced economies is not returning Chinese export demand to pre-crisis levels.
These trends - together with the continued appreciation of the renminbi - have contributed to the decline of Chinese goods' market share in developed countries. Indeed, Chinese exports have lost some 2.3 percent of market share in the developed world since 2013, and about 2 percent in the US since 2011.
Incipient trade agreements such as the Trans-Pacific Partnership, the Transatlantic Trade and Investment Partnership, and the Plurilateral Services Agreement will accelerate this process further, as they eliminate tariffs among certain countries and implement labor and environmental criteria. Add to that furtive protectionism, in the form of state assistance and government procurement, and Chinese exports are facing serious challenges.