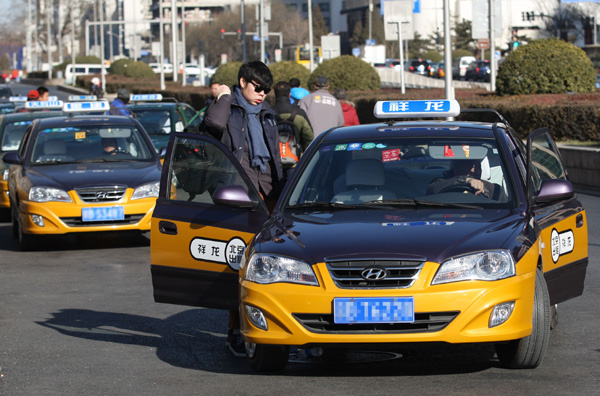 Taxis near Beijing Railway Station take passengers on Friday. Last Thursday, the Ministry of Transport has prohibited private cars from taking passengers for profit in response to strikes by taxi drivers in some cities. Wang Zhuangfei/CHINA DAILY
Strikes by taxi drivers in a number of provincial capitals are not just a protest against the so-called Uberification that is impacting on their livelihoods. It is also a demonstration of discontent at the government-approved monopoly of the taxi business.
Under the current business model the industry is completely monopolized by government-approved taxi companies. Taxi drivers have to pay high fees to rent the taxis from the companies, irrespective of how much they make. And the fares are also decided by the government, which has made it hard for market mechanism to play its role.
This is not the first time taxi drivers have gone on strike because of hardship. Many taxi drivers complain that the bulk of the money they earn has to go to the taxi companies and they can hardly make ends meet despite often working 10 hours a day.
And it is natural that passengers prefer the convenience of app-provided taxi services, despite bans of some local governments which claim that cars providing requested taxi service without the necessary license are illegal.
The response of local governments to such strikes used to be raising fares to increase the drivers' incomes and thus alleviate their disgruntlement without ever touching upon the interest of those who benefit from the monopoly over the business.
Now the increasing popularity of request-taxi apps, which are taking an ever larger share of the taxi business and will soon marginalize the traditional taxi service, means reform of the traditional management model by letting the market play its role has become urgent.
It is obvious that most local governments are yet to make up their mind about whether to carry out a thorough reform of the traditional management model. They can temporarily soothe the majority of taxi drivers by raising taxi fares and banning unlicensed drivers. Then the clients will suffer by paying more for a taxi, and the conflict between drivers and taxi companies in monopoly operations will remain.
Once the companies raise the fee they levy on taxi drivers, more strikes will probably occur. Such a vicious cycle will never end unless the management model is thoroughly reformed for fair competition in the market.