Medicine man on a mission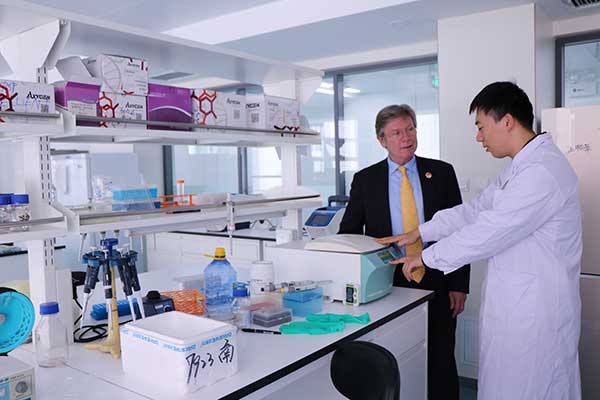 Nicholas Lemoine has been the dean of the Academy of Medical Sciences at Zhengzhou University since 2015. The British medical expert devotes his time to reforming the school's management system and promoting its international cooperation.[Photo provided to China Daily]
"I'm two years into this now, and I am not going to give up," he says of the reforms.
"Other parts of the university are looking at this, and recognizing that this is a good thing."
His colleague Sun Xuelian appreciates the culture and ideas Lemoine is trying to spread among the co-workers.
Lemoine plays his role as a "serving leader" and has encouraged initiative among the employees, Sun says.
"He gives us no tasks, but a direction instead, and leaves the rest to us," Sun says, adding that he only gives them suggestions based on his experience.
Despite the challenges, Lemoine finds there are special advantages to undertaking research here.
His school has eight affiliated hospitals in Zhengzhou - and one is among the largest in the world.
"It's an enormous opportunity for me as a clinical researcher, with its huge amount of patients," he explains.
He says his priority is to understand and design new ways to prevent and treat some common cancers in the region and let the clinical application of their research results directly benefit the local people.
Lemoine has made special efforts to increase the university's international exposure, by helping it organize international conferences, such as the 2017 Esophagus Prevention International Conference held at the university. It brought together more than 300 medical professionals from China and abroad.
With his assistance, the university is collaborating with influential international counterparts, including Cambridge University.
In the past few years, he has helped Zhengzhou University arrange for about 10 young scientists and doctors to train in the UK.
In recognition of his contributions, Lemoine was given the Friendship Award by the Chinese government in October.
The award is the highest honor given to foreigners who have made significant contributions to the country's social and economic development. Lemoine spends more than half of the year in Zhengzhou and keeps a busy schedule.
He admits that the decision to divide his time between two sides of the world was not easy. "But I think it's the right decision. Most of the time, things work out fine when you are doing the things for the right reason and when you have a vision," he says.
His department has won four national science grants. It also received one international joint funding deal in 2017.
Meanwhile, its new international-level research platform for basic research and translational medicine, set up with an investment of nearly 200 million yuan, began operating recently.
And he intends to establish a network of medical schools in China to tackle the main challenges the nation faces in medicine.