Medicine man on a mission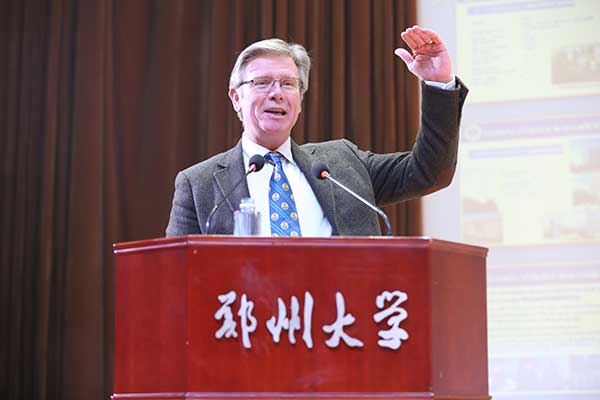 Nicholas Lemoine has been the dean of the Academy of Medical Sciences at Zhengzhou University since 2015. The British medical expert devotes his time to reforming the school's management system and promoting its international cooperation.[Photo provided to China Daily]
From studying cancer to establishing a network of medical schools in China, Nicholas Lemoine is not one to give up. Liu Xiangrui reports.
Nicholas Lemoine says China's opportunities and challenges are its attraction.
The 60-year-old British medical expert has been the dean of the Academy of Medical Sciences at Zhengzhou University in the capital city of Central China's Henan province since 2015.
He's a renowned expert in molecular oncology, gene therapy, translational medicine and management of medical institutions. And Lemoine is a fellow of both the Academy of Medical Sciences and the Royal College of Pathologists in the United Kingdom.
He also serves as the director of the Barts Cancer Institute in the UK.
Lemoine has published nearly 300 papers in various publications, which have won him more than 20 international academic awards.
He first visited China in 1989, when he was invited to give lectures at a few hospitals in Beijing. He didn't return until 2005, when one of his colleagues who had a connection with Zhengzhou invited him to visit.
He had a chance to meet with Henan's provincial governor and forged a good relationship with the president of Zhengzhou University, who was keen on developing international links.
Lemoine was soon invited to be a guest professor at the university. With his help, the university soon established the Sino-British Research Center for Molecular Oncology with Queen Mary University of London in 2006.
Lemoine has led the center in research in such areas as oncolytic virotherapy, individualized molecular diagnosis and treatment.
The center has garnered more than 16 million yuan ($2.4 million) in funding. It has published 25 high-level papers and has been granted three patents.