Mastering the art of the bean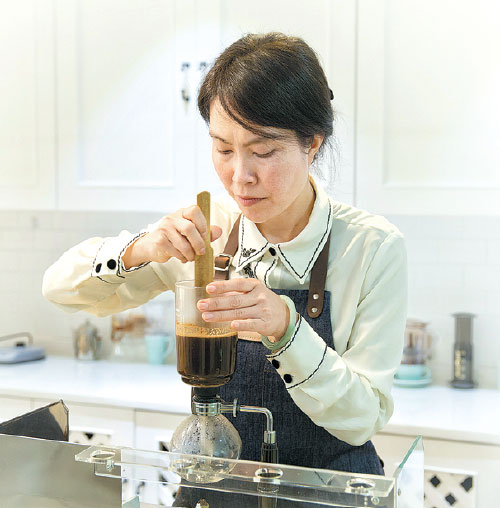 Qi Xiaolan makes coffee in one of her apartments, which was renovated into a coffee classroom. Photos provided to China Daily
Since graduating in music from Fujian Normal University, Qi Xiaolan, 45, has worked at a State-owned company in Quanzhou, Fujian province, doing a job that has nothing to do with art for 24 years.
But she has found an unexpected way to nurture her artistic side - coffee tasting.
Qi always knew about tea. She grew up in a city famous for a tea called tieguanyin, where virtually every household was deeply familiar with the arcane details of proper tea making, serving and drinking.
But Qi broke with the past. She fell in love with coffee around 2000, when cafes started to show up in the city, and she would observe how coffee was brewed.
"I like the atmosphere in the cafes, which is delicate and comfortable. There is an artistic feeling, and the fragrance of coffee permeates the whole room," she said.
Drawn by the comfortable atmosphere in the beginning, she started to learn the art of coffee tasting in 2014. The next year, she began Q-grader training in Beijing, a program offered by the Coffee Quality Institute, an organization founded by the Specialty Coffee Association, a nonprofit based in California.
During the training, which lasted for nine days, Qi was exposed to intensive and even "painful" courses focused on the art of tasting fine coffee.
"I had to sip from 120 cups of coffee a day on average," she said. "For example, there was a difficult part of the training where people learn to grade the sweetness, saltiness and sourness of water that tasted really plain."
After passing the required tests, she became a coffee grader accredited by the institute.
Unlike casual drinking, coffee tasting requires the taster to exactly identify the characteristics of coffee beans, such as their fragrance, the fragrance of extracted coffee and its aftertaste, Qi said.