Naval academy goes global at sea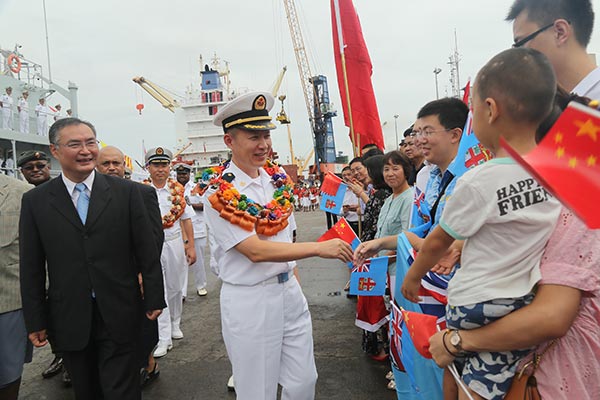 Yan Zhengming (center), Dalian Naval Academy president, meets local Chinese residents when the Zhenghe stopped in Fiji last year. [Photo provided to China Daily]
What does a Chinese warship captain do when his vessel encounters an American one on the open sea and the US captain tries to start a conversation?
"In the past, he did nothing due to his poor English and a lack of experience with such encounters. But things have changed greatly," says Rear Admiral Yan Zhengming, the president of the Dalian Naval Academy of the People's Liberation Army.
When a senior American naval officer visited China in 2014, he wanted to meet a captain named Lu Qiangqiang.
It then turned out that Lu had communicated with the officer's captains the year before. Lu and the captains had talked in English for about an hour on topics ranging from the NBA to their personal lives.
"Lu is a graduate of our academy. Our midshipmen are often in charge of a warship or a fleet," says Yan.
"So, we are not only teaching them about command and combat, but also about global awareness and English, as the lack of effective communication could lead to misunderstandings or even danger."
The DNA was the first military school of the People's Liberation Army set up after the founding of New China. It has since trained more than 50,000 commanding officers.
Meanwhile, the academy is also placing more emphasis on training and international exchanges.
The midshipmen make battle plans, fire live ammunition and handle emergencies.
The academy also invites warship captains to test the midshipmen for the main courses, such as battle command, making the exams resemble actual combat.
In recent years, the midshipmen have visited more than 60 ports in over 20 countries.
Speaking about his experiences, Yan, who has led the voyages of the training vessel Zhenghe for the past two years, says: "I became a midshipman at the DNA in 1985. But it wasn't until 2011 that I got a chance to visit another country as a military officer. So, the midshipmen today are lucky."
Zhenghe made a 68-day voyage to the Pacific and Indian oceans last year, and visited Indonesia, Australia and New Zealand.
During the trip, the 169 midshipmen learned 13 subjects, such as terrestrial navigation and weather forecasting, and carried out combat training. They also toured foreign military bases and academies.
In addition, two naval midshipmen from Australia and New Zealand were invited on board to live with Chinese midshipmen for several days.
The DNA is cooperating with foreign military academies to exchange teachers and instruction methods. Midshipmen and faculties from naval academies and delegations from more than 60 countries have visited the academy. And Chinese midshipmen and teachers from the academy have also visited their counterparts in such countries as the US, Italy and the Great Britain.
"More than 100 midshipmen from other countries are studying in our academy," says Yan.
The midshipmen from the academy also actively take part in international competitions, including sailing contests in Italy and Brazil and a military-skills competition in Pakistan.
"This year, we are planning to invite foreign military teams to attend the cross-Bohai Strait sampan rowing competition and the third International Midshipmen Week activities in October," says Yan.
Ma Yingzhi contributed to this story.