For time-honored brands, survival hangs by a thread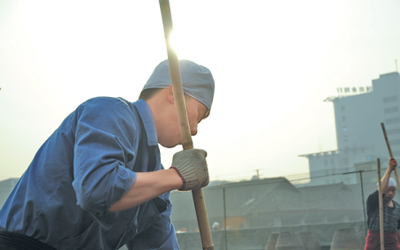 Chinese traditional brands endeavor to respect their traditions but at the same time try to keep abreast of modern developments. [Photo provided to China Daily]
There are few better ways of unraveling some of the mysteries behind Chinese culture than by looking into the history of the country's time-honored brands.
You can get a glimpse into the traditional making of fermented bean curd by visiting the 340-year-old Wangzhihe science museum in Beijing. If the history of Chinese grape wine tickles your interest, the old winery Dragon Seal in Beijing is the place to go, and soon anyone wanting to find out about Chinese sauce and pickles will be able to do just that at the museum of Liubiju, the pickle maker that is more than 400 years old, also in Beijing.
As traditional brands endeavor to respect their traditions but at the same time try to keep abreast of modern developments, they are also putting in a great deal of effort to educate customers about their culture and heritage.
"Traditional culture, a way of life and nostalgia are the essence of time-honored brands," says Yin Jie, a member of a committee of experts charged with revitalizing time-honored brands.
Such brands will be more recognizable in the marketplace if their owners adopt certain strategies and are willing to innovate, he says.
Many that have done so are thriving, he says. For example, the pastry maker Daoxiangcun, 244 years long in the tooth, has added more than 10 flavors to its old-fashioned moon cake collection.
Moreover, sugar alcohol was put in for the elderly, and flower and fruit were grounded together for the young. Sugar content in certain cakes was also generally reduced by 7 percent, which appeals particularly to the health conscious.
"Chinese shoppers are gradually turning to traditional Chinese pastries that have better ingredients and that use a better production process," says Zhou Guangjun, the chairman of the Daoxiangcun board.
"We have adjusted formulas in a timely way and put new products on the market to coincide with the trend toward healthier eating."
The Juancheng Pixian Thick Broad-Bean Sauce company has also recently upgraded its cooking sauce recipe for sale in small packets for instant use.
"We want those who don't cook to be able to enjoy our products, for example when they board an aircraft," says Wu Jialin, the company's e-commerce manager.
The household name Yunnan Baiyao has applied its blood-stanching ingredients to adhesive bandage and toothpaste. The latter has become its star product since coming on the market 13 years ago.