Deep-sea oil developer draws on the well of goodwill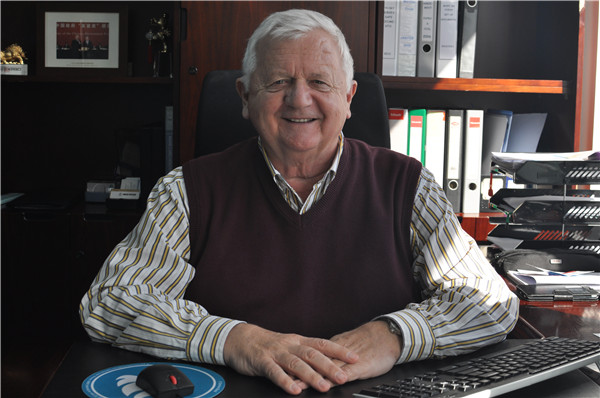 Peter Quiatkowski. [Photo provided to China Daily]
Peter Quiatkowski is proud to have made his mark on China's deep-sea oil exploration industry in the past decade.
"When I arrived, the oil business in China was picking up very fast. We were lucky enough to be on the move and were carried along with this," says Quiatkowski, 67, an oil expert from Britain.
Since 2007, Quiatkowski has played a pioneer role in the industry as general manager of Cosl-Expro Testing Services (Tianjin) Company, a joint venture established by China Oilfield Services Limited and the oilfield services provider Expro Group of Britain.
Quiatkowski, who has been in the industry for more than 40 years and has worked in many places, including Africa and South America, says he did not know what to expect before he arrived in China.
He soon found the new environment encouraging. The country was busy preparing for the Olympic Games in Beijing in 2008, and there was "a general enthusiasm for change in the country", he says.
Although Chinese companies were entering new fields and needed overseas help, he was happy to see his Chinese team was well educated and was keen to learn.
"So we had the right ingredient," he says. "They just needed some leadership to get everybody to pull in the right direction."
Early on Quiatkowski put a great deal of emphasis on policies and procedures. It took some time for his Chinese colleagues to understand his approach and get used to new ways of doing things.
"It was a practical challenge to let everybody understand we had to behave in an international way if we wanted to enter the international market," he says.
Drawing on his international experience, Quiatkowski made training a key part of his long-term strategy.
The joint venture frequently sends groups of employees, 99 percent of whom are Chinese, to Britain for training.
"No matter how good the captain is, the ship still would not sail without a good crew," he says.
The company has put in bids against the strongest international competitors and won the contract for a deep-water well testing project of a major Canadian energy company in 2008, marking the first successful step for Chinese oilfield services companies to go international.
Since then the company has provided oil testing services to more than 10 leading international oil companies.
Quiatkowski's team provided the advanced technology and highly trained Chinese crew that carried out well testing services on the sixth-generation semi-submersible oil rig CNOOC HY 981, which went into service in 2012.
It was the first independent deep-water oil drilling operation by a Chinese company, making China one of the few countries that can explore for deep-water oil and gas.
The team also introduced innovative methods to significantly reduce the time required for similar tasks.
This exemplified the Chinese team coming a long way toward becoming top-level players in the field, he says.
"They are stretching the boundaries."
Quiatkowski's work has been recognized by the Chinese authorities. In 2014 he received the Friendship Award, the highest honor given by the Chinese government to foreigners who have made significant contributions to the country's social and economic development.
"It means so much to me. I feel like I should give back more."