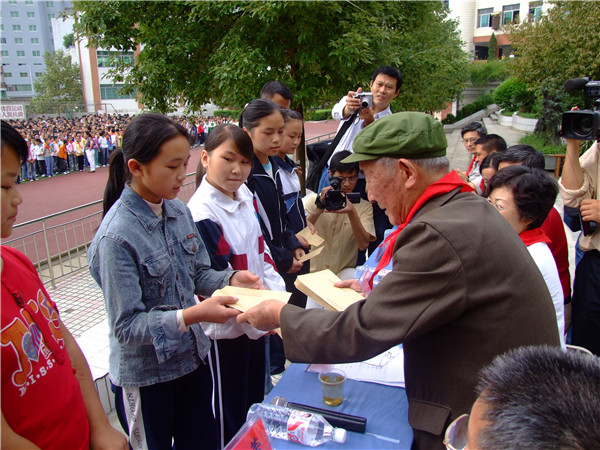 Red Army veteran Li Guang visits schools and gives lectures to tell young people his stories of the Long March. [Photo provided to China Daily]
It all started toward the end of 1994, when Li Guang accompanied a charity team to a primary school in Zunyi, Southwest China's Guizhou province.
As a Red Army veteran, he was angry to find that the school's playground didn't have a national flag. Li asked the headmaster: "How do you hold flag-raising ceremonies for the children?"
Furthermore, he noticed holes and cracks in the mud walls of a classroom. The children were without shoes and in thin clothing, exposed to the cold air from outside. They had wooden boards on stumps for desks and there were no chairs.
Li donated 400 yuan ($60), all the money in his wallet, to the school.
Back then, the average annual income of an employee in State-owned enterprises in Guizhou was a little more than 4,000 yuan.
After leaving the school, Li kept thinking of the children who reminded him of his own childhood.
Born in Zunyi in 1921, Li was orphaned at age 2. By the time he turned 8, his foster parents had left him.
He started herding cattle for landlords and often went hungry.