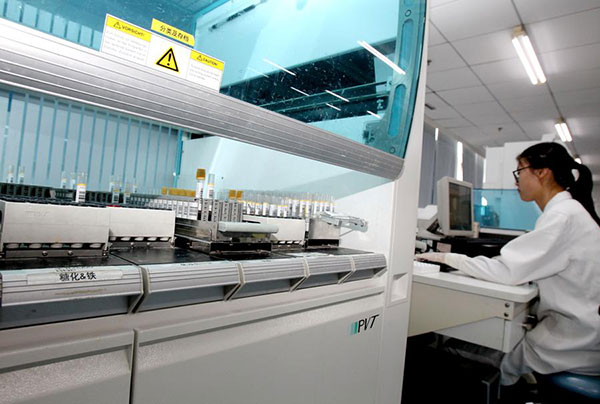 [Photo/Xinhua]
Some major hospitals in Beijing will be equipped with security checkpoints to improve safety for hospital staff, according to Beijing's top health authority.
Anyone entering medical institutions with prohibited items such as daggers or long knives will be detained, according to a circular released by the Beijing Municipal Commission of Health and Family Planning on Monday.
The commission also announced on Monday the start of a one-year campaign in Beijing, with the cooperation of other departments such as the Beijing Public Security Bureau, to fight legal violations and crimes involving hospitals and hospital staff.
Lin Keqing, deputy mayor of Beijing, said the campaign aims to ensure that no serious violence occurs and that real relations are improved between hospitals and patients.
Public security bureaus will respond to reports by medical institutions and take action to end violence against medical staff, according to the Beijing Municipal Commission of Health and Family Planning.
Hospitals will improve security systems, and major hospitals must install monitoring videos in public areas and wards. In addition, they should arrange security patrol in emergency areas.
Chao Wei, publicity chief of Beijing Obstetrics and Gynecology Hospital, said the hospital welcomes the security measures.
"I think installing security gates would help greatly in easing violence against hospitals," he said. "If doctors have a safer working environment, they can concentrate more on improving medical skills and services."
Li Huijuan, a lawyer specializing in medical affairs in Beijing, said the measures will deter those who would commit violence in hospitals and will work to ease concerns of staff.
"But the measure will not solve the root causes of violence," she said.
Some basic issues underlying hospital-patient disputes must be solved so that violence against doctors can be presented, she said.
For example, the government should invest more to improve medical insurance to reduce the cost of treatment, and secondary hospitals should be improved so that patients will not swarm into a few big hospitals, she said.
In addition, pay and benefit for doctors should be increased to improve the attraction of the profession, she said.