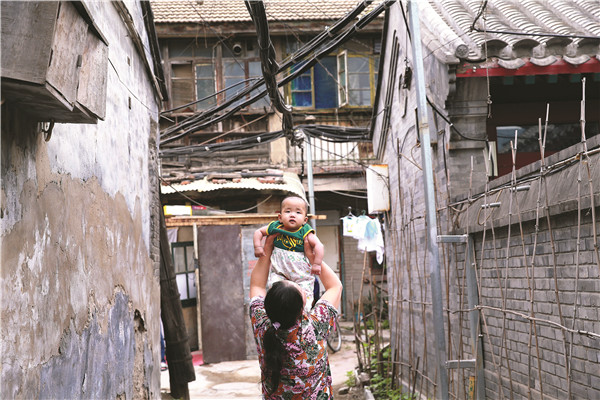 A woman from Anhui province plays with her baby in Beijing's Hongfu Hutong. The hutong is home to many migrant workers from outside the capital and, like many such neighborhoods, has infrastructure challenges. [Zou Hong / China Daily]
Residents, developers and governments grapple with how best to manage the capital's hutong areas.
He Huizhong has just finished shopping for fresh vegetables at a farmer's market in a narrow alleyway in central Beijing that's too small for a car to pass through.
On the short walk home, the 68-year-old looks up, as he always does, to the 51-meter-tall Tibetan Buddhist pagoda that gleams white in the sunshine.
"Somehow, it makes me feel secure in this big city that changes every day," he said.
He has been living in a hutong, or alleyway home, in the Baitasi (white pagoda temple) area of Beijing's Xicheng district for more than 50 years. The pagoda has watched over the neighborhood for 737 years.
As Beijing grows ever larger and is packed more and more tightly with towering modern skyscrapers, the number of hutong neighborhoods such as his, which first appeared in the city more than 700 years ago during the Yuan Dynasty (1368-1644), has been falling. According to the latest figures from the Xicheng branch of the Beijing Municipal Commission of Urban Planning, the district had 858 hutong in 2003 and is currently thought to have around 609.
Citywide, the latest official tally was released in 2005. At that time, there were 1,353 hutong in Old Beijing. The survey counted hutong — which are collections of closely packed ground-level homes organized in distinctive patterns around narrow alleyways — within the Old City of Beijing, which is a 62.5 square kilometer area encircled by the city's Second Ring Road. The road stands today where the original city wall once stood.
Wang Fei, deputy director of the Beijing Municipal Commission of Urban Planning, said recently that the city will protect the "more than 1,000 existing hutong" that remain and that their names will also be preserved.
Wang did not give a specific number for how many hutong are left within the boundaries of the old city wall and no one from the commission could be reached for comment when contacted by China Daily.
Experts said improved legislation and greater public awareness of the importance of the disappearing hutong areas have slowed the rate at which they and the city's siheyuan (traditional quadrangle courtyards) are being cleared.
Many people now see the traditional architecture of these neighborhoods as the essence of Beijing as an ancient imperial city with a long history.
But, even today, some hutong are still being torn down. And a range of issues plague the remaining hutong areas, including disputed property rights, unpleasant living conditions and the unreasonable commercialization of some of these existing homes and alleyways.