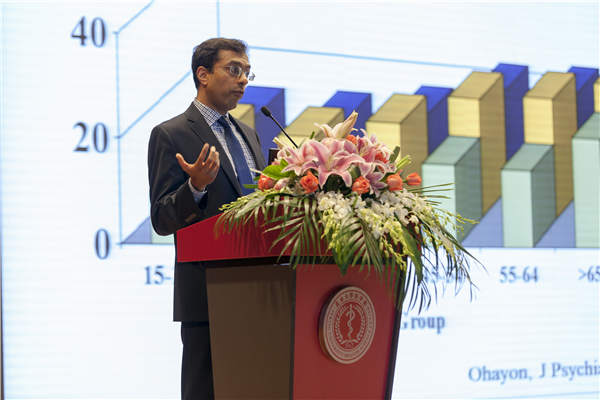 Nalaka Gooneratne, associate professor of medicine at the University of Pennsylvania. [Photo provided to China Daily]
As to the hours of sleep one needs, everyone is different. While some need 10 hours a day, some need a minimum of eight.
Gooneratne says although he doesn't know of any evidence in this regard, he believes a regular sleeping habit makes a person sleep better in the long run.
If one has to sleep longer on the weekends, that means the person is not sleeping enough during the week, he says.
An ideal situation is observed among aboriginal people who usually have the same amount of sleep nightly and maintain a regular wake-up time each morning, while he says, in industrialized societies most people are sleep-deprived.
Gooneratne suggests that people suffering from insomnia keep a diary to note one's sleep patterns. Some samples can be found on the internet.
The next advice is to tackle lifestyle issues, such as refraining from drinking coffee, tea or energy drinks after midday, and putting computers and smartphones away at night. Caffeine stays in the body for almost 12 hours, and if one drinks coffee or tea at 6 pm, chances are that the person will be awake until midnight.
The bright light from computer screens can confuse people's internal clock, too, he says.
It is also important to have a simple bedtime routine and a good environment.
"Maybe you brush your teeth, read a book for 10 or 15 minutes and turn the light off, like this. Just a pattern that you generally follow," the expert says. "It is important not to be too anxious or rigid about the pattern, because that can also get you stressed."
A good environment means the windows are well closed, and one can also wear sleeping goggles or eye shades so that the room feels dark.
Such advice is not easy to follow, and it is wise to begin one every week instead of trying to rush into them all at once, he says.
Almost half of the people suffering from serious insomnia will likely get help from the steps he recommends, and the next step would be to see a doctor.
He does not suggest using smartphone apps, because as he understands, none of them have been tested so far.
Exercise in the afternoon is also a good way to help people deal with insomnia, he says.
"Sleep is an investment in your brain, and it will help you to be more productive and positive during the day if you make extra effort to sleep enough at night."
Contact the writer at liuzhihua@chinadaily.com.cn