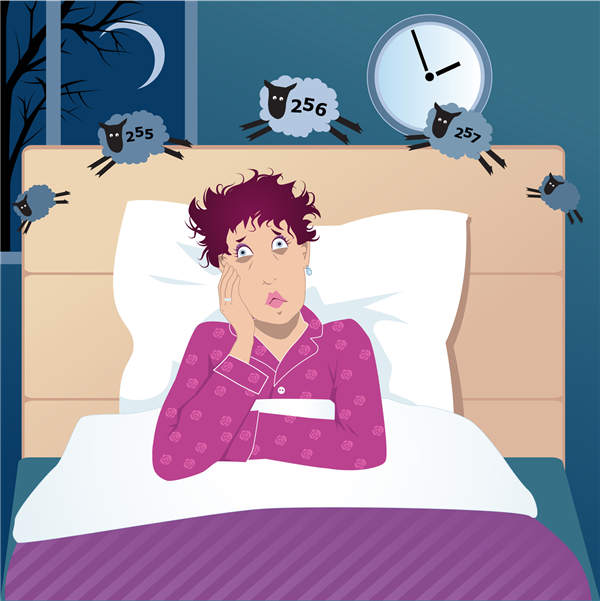 [Photo/China Daily]
A US-based expert suggests regular wake-up time and lifestyle changes to handle insomnia, Liu Zhihua reports.
Sleep problems are common, especially in a fast-paced society where people are stressed about work.
Almost everyone has trouble falling asleep from time to time. But if someone has difficulty with it at least three times a week for more than three months-and if that interferes with the person's daily routine-then he should take the matter seriously, says Nalaka Gooneratne, associate professor of medicine at the University of Pennsylvania.
Gooneratne was in Beijing in late May to deliver a speech on insomnia at Peking University, as part of an exchange forum between the two universities.
About 5 to 15 percent of people have significant insomnia worldwide, with depression, such anxiety disorders as obsessive compulsive behavior, and sleep apnea being the most common causes, he says.
People with such health conditions should get the disorders treated first, he says.
The most important thing is to have a regular bedtime and wake-up time. In fact, having a regular wake-up time is more crucial than having a regular sleeping time, he says.
"It is very hard, because if you have insomnia, you want to sleep in the next morning, but you should not. It is better to have a schedule," Gooneratne tells China Daily.
"Your brain will learn when to go to sleep, because your brain learns when to wake up, if you have a regular wake-up schedule."
Everyone has a "brain clock" that helps people feel sleepy and rise on time. For example, if you wake up at 8 am daily for several weeks, your brain programs this and urges you to begin the day at the same time every day. Then your brain naturally helps you feel tired and fall asleep around midnight, he explains, saying several studies have shown that having a regular wake-up time is helpful for insomnia patients.