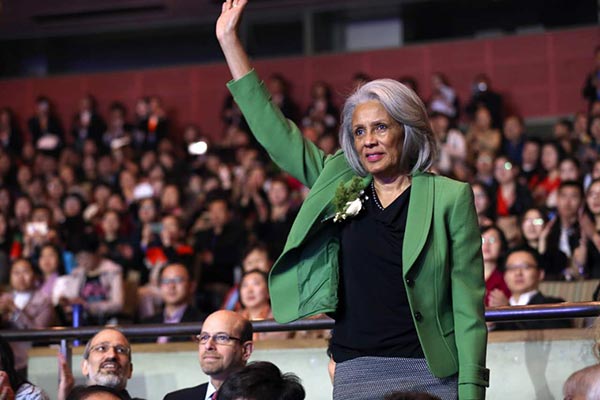 Carol Bruson Day. [Photo provided to China Daily]
Alongside animated films and music, yoga — a practice usually for adults — will act as the latest means to train toddlers and preschoolers in China.
Geoffery A. Nagle, president of Erikson Institute, says the school plans to cooperate with China's RYB Education Institution to launch a yoga program for young children in June, during his recent visit to Beijing.
The Chicago-based institute is a leading American graduate school in child development. It has cooperated with RYB, one of China's earliest and largest early-education organizations, to train 116 Chinese kindergarten teachers in the United States since 2014.
Nagle says the yoga idea initially came from a Chicago teacher and got echoes of support from the Chinese partners during RYB's annual summit for its 300 kindergartens in late March.
Zhang Lan, executive vice-president of RYB's Institute of Education, says the American teacher, who has practiced yoga for decades, will coach 150 Chinese teachers this summer.
"We hope the Chinese teachers will master the skills of coaching young children. Actually, toddlers or preschool children are in a better physical condition to practice yoga. Their bodies are softer," says Zhang.
"Yoga is also a good way to train the children's focus, attention and imagination," she says.
More team-ups in early education between China and the United States will come together in the following months, RYB announced at the summit.
Carol Bruson Day, president of the US' National Association for the Education of Young Children, says her association will hold a special forum for Chinese educators in its annual summit in November in Los Angeles. The forum be in Chinese to help the Chinese participants easily understand American educational systems, according to Day.
Related:
Youngest child most likely to miss out on breastfeeding: research