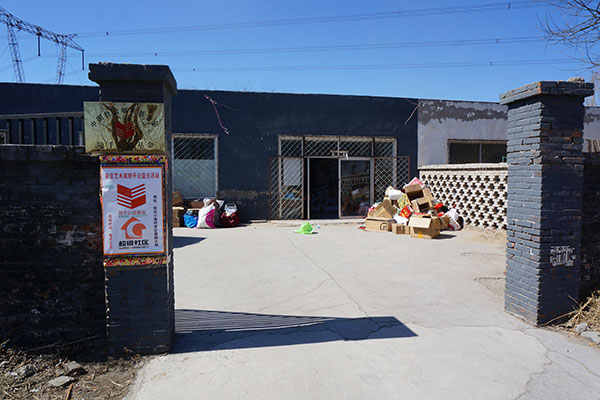 Gate of the warehouse locating at suburb outside the six ring in Beijing. [Photo by Ruan Fan/chinadaily.com.cn]
In the past five years, 42-year-old bachelor Fan Yinhua has been so busy running his charitable organization that he has only left Beijing once, for his hometown Hubei in Central China.
It was this Spring Festival, when the temperature dropped below 17 degrees Celcius and the bungalow Fan resides in outside the six ring east of the mega city was freezing.
"The winter was too cold, and I was feeling rather tired, so I decided finally to give myself a break."
Fan said he had been wanting to quit after doing what he's been doing for four years, but he couldn't.
"It's like raising a child, and I can't just let it go before I found it a good daddy."
The "child" Fan referred to is a non-profit organization initiated by professor Yu Jianrong from the Chinese Academy of Social Sciences - Suishougongyi, that collects donated goods and distributes them to the needy, and advocates doing good at people's convenience.
In four years, what was once a small station that helps tramps in Beijing to tide through harsh winter times evolved into a nationwide non-profit organization that delivers tons of donated goods to rural areas in West China.
Several hundreds of items, mostly clothing, pour into this warehouse every day, either brought by delivery men or by the donors themselves.