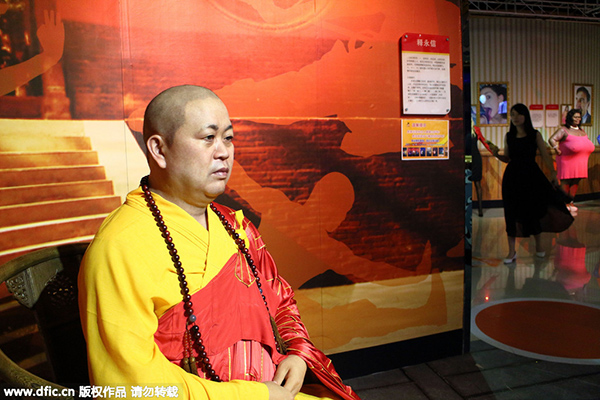 A wax figure of Shaolin Temple Abbot Shi Yongxin is on exhibition in a Celebrity Wax Museum in Guangzhou, Aug 1, 2015. [Photo/IC]
Shi Yongxin has been embroiled in controversies since I first heard his name.
The very famous, or infamous, abbot-depending on your attitude-of the legendary Shaolin Temple has long been accused of over-commercializing a major religious institution.
But now he faces more serious charges: Late last month someone named Shi Zhengyi, whose identity has not been revealed, came forward with allegations of "10 sins" the abbot has supposedly committed. Other than "taking over Shaolin assets", the truly eye-catching allegations are "playing with women and fathering children outside wedlock".
Specifically, the abbot was accused of "rape" and "keeping mistresses".
This tickled public imagination in the same way scandals involving Catholic priests molesting children have been plastered all over Western media headlines.
These figureheads of religious piety are supposed to be voluntarily celibate, aren't they?
But in the rush to denounce the sinner and occupy the moral high ground, many seem to have neglected one crucial distinction: Rape is a serious crime that must be legally prosecuted, while "keeping mistresses" violates only the code of conduct embodied in the vocation.
It's an open secret that Shaolin Temple operates more like a business than a religious entity under Shi's stewardship.
Is this wrong?
This is a muddily gray area.
Many who trek to the renowned temple in Dengfeng city, Henan province, are tourists rather than pilgrims. Sure, some may leave token donations, but isn't it fair to charge them an appropriate entrance fee for sightseeing?