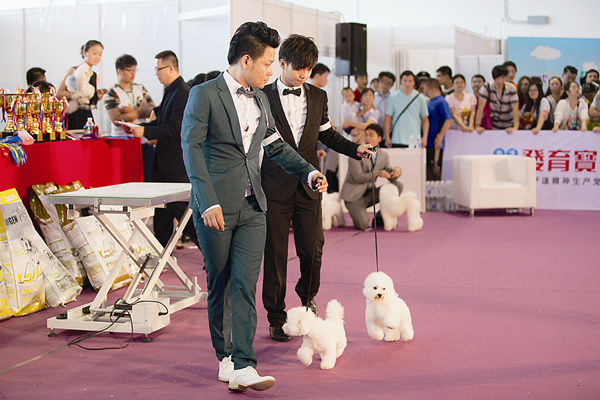 Cute animals shown at Pet Fair Asia 2014 in Shanghai. [Photo by Gao Erqiang/Shanghai Star]
Many adorable pets went on show at Pet Fair Asia 2014, along with the latest gadgets for their every need. Wang Zhenghua picks out some of the cutest.
Pet Fair Asia 2014, one of the most important events in the global pet industry, lowered its curtains in Shanghai on Aug 24. While the organizers were busy calculating the number of attendees and the trade volume at the four-day show, the record floor size area and the great fervor shown by exhibitors offered an indication of the rapid development of China's pet industry.
According to Euromonitor International, while the percentage of dog and cat ownership is low in China, there were still 51 million cats and dogs owned in the country last year, placing it third after Brazil at 52 million.
The United States ranks number one at almost 170 million.
In fact, because so many households in China own smaller pets, including fish, the total number of pets owned was a whopping 290 million.
Along with the robust growth of China's pet industry comes the rapid innovation of products designed for pets. At the annual fair, products ranging from intelligent doghouses to pet insurance drew a huge crowd.
"We target consumers at the very top of the socio-economic ladder," Sun Zhaohui, a co-founder of Hong Kong Tesla Technology, talks about the company's intelligent doghouse, T-Pai.
Shaped like a double-decker bus, the device, priced at about $20,000, allows owners to remote communicate with their dogs through its interaction system via mobile devices like Smartphone or Tablet when they are not by pet dog's side.
It also features automatic toilet system and access control system on the second floor.
Other popular products at the fair include smart feeding devices, wearable equipment for pets and canine and feline foods without harmful additives.