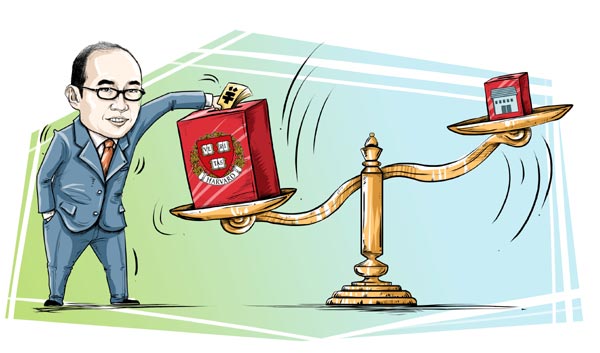 Wang Xiaoying / China Daily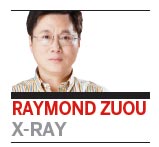 A Chinese property baron has sparked a debate about the worthiness of charity recipients, writes Raymond Zhou.
Philanthropy is generally not a hotbed for controversy. But here in China you are watched closely if you hold your purse strings tight or let your money flow, and, in the latest case, the direction in which your money flows may also be a cause for concern.
Pan Shiyi, a real estate tycoon who is a celebrity in his own right, ruffled feathers when he and his wife decided to donate $15 million to Harvard University in the United States.
The news on the grapevine was more dramatic: It said Pan gave $100 million. Later, he clarified that, saying he planned to set up a fund with a total of $100 million, of which $15 million is earmarked for Harvard, and specifically for needy students from China. Other schools being considered include Yale and other prestigious universities in the US and the UK.
Yao Shujie, an economist, spoke for many when he questioned Pan's motives: "Pan made his fortune from the property market in China. Why should he go all the way to the US for philanthropy? He forgot where his roots are."
Others suggested that Pan's donation was an effort to win admission for his son into the Boston school. Their rationale: the benchmark set by Pan for eligibility is 65,000 yuan ($10,500) in annual family income, which most middle-class Chinese families can easily cross and, therefore, not many from China will meet this requirement anyway.
Now, Pan is no Chen Guangbiao, a philanthropist who made his millions in recycling. Pan has dabbled in entertainment, even playing the male lead in a feature film, yet he does not go around trumpeting his altruistic deeds. He does have a much higher profile than most businessmen in China, but he earned it not from his business feats, but rather from his micro blog comments on public affairs.
As a matter of principle, Pan has the right to donate to whichever individual or organization he sees fit. It is none of the outsider's concern whether the recipient is Chinese or foreign. Every person has his or her own priorities when it comes to choosing a target for help.
For more X-ray stories, click here