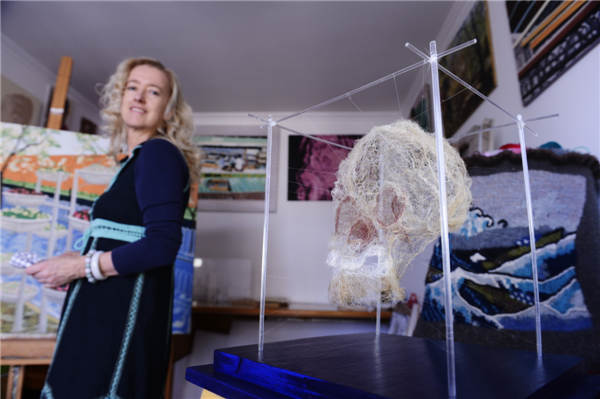 Artist Niamh Cunningham and one of her works,a delicate knitted skull spun from her own hair. Wei Xiaohao / China Daily
From knitting to painting, Irish artist weaves her heritage and surroundings into her art, as Tracie Barrett discovers.
The first thing one notices on entering the Beijing apartment of artist Niamh Cunningham is the number of canvases covering almost every inch of wall space. A closer look shows an equally impressive variety of styles and subject matter - the dark reds and black silhouettes of her subway series, thickly applied impasto oils that form rugged crags on a huge mountainscape, and the soft, seemingly melting lines of her Transparent Milk portraits, inspired by the work of the contemporary Chinese artist Zheng Delong.
Nor does the Dublin-born artist limit herself to working on canvas. Stepping into her studio or browsing her website, one can see a delicate knitted skull spun from her own hair and a more solid knitted spiral that serves as a calendar, both public and very personal. Cunningham's speech is an artwork of its own, her soft Irish brogue weaving ethereal and elemental images, as she speaks of the countries in which she has lived and traveled and her evolution as an artist.
Surprisingly, or perhaps not when one sees the detail in her work, Cunningham studied biomedical sciences at university and has both a bachelor's and a master's degree in the field. Art has always been part of her life, however, learned first from her mother and grandmother and honed through practice and experimentation.
"My gran was a painter," she says. "So she gave me my first oils when I was 11. My mother used to make marmalade from real oranges and when the crates of oranges came, there was a canvas board on the crates."
Her grandmother, a "hobbyist" painter, taught her how to prime the boards and they were her first canvases.