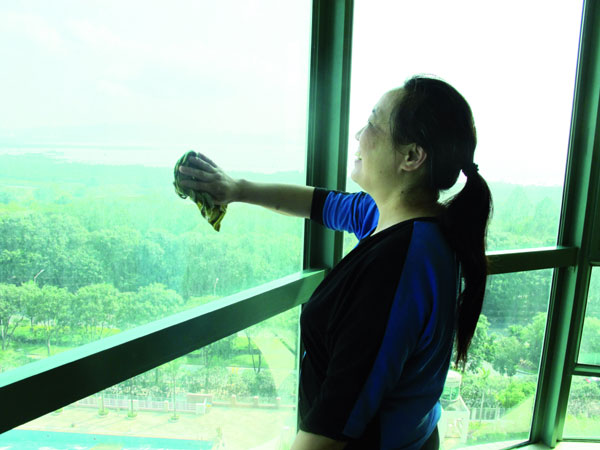 Shen Xiaohua, 44, works as a domestic helper in Shenzhen to earn money to help her daughters. [Photo by Chen Hong/China Daily]
Shen Xiaohua's high-pressure workday in Shenzhen begins when she rises at 6 am. The 44-year-old domestic helper then has 50 minutes to wash, gulp down breakfast and cycle to her employer's home 3 kilometers away, where she begins preparing breakfast for the family she works for; a couple with two young girls.
After breakfast is over and everything cleared away, Shen usually spends the morning cleaning the three-room apartment on the 13th floor, from where there is a view of the wetlands that separate Shenzhen and Hong Kong. In spring, that sparkling scenery is often accompanied by a warm breeze coming in from the south. However, Shen has little time to enjoy the view or the breeze because she needs to finish in time to take a bus to another workplace by midday.
That is a hotpot restaurant about 7 km away, where she washes vegetables.
Her work at the restaurant finishes at 3 pm and Shen takes a bus to her home, where she gets barely 15 minutes' rest before taking a bus to pick up one of the girls by 4 pm. The pair then head back to the girl's home about 4 km away, on the way Shen will think about what she needs to buy at the supermarket for the family's dinner.
After she has cooked and the family has eaten, Shen will wash and dry the dishes and then clean the kitchen. At 9 pm she heads back home.
She has one day off a week.
"My daughters (aged 24 and 26) have asked me to give up work and let them support me," Shen said. "But I don't want be a burden."
When they were young, she said she worked hard so they could get a good education.