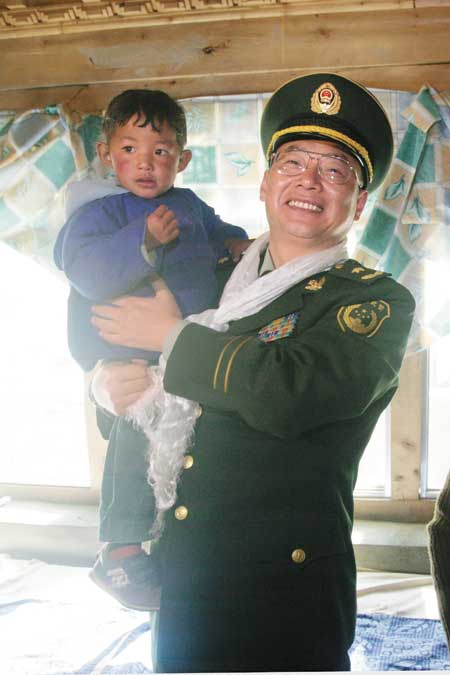 Guo Yili holds a Tibetan boy on a visit to a Tibetan family in a village. Provided to China Daily
One of Guo Yili's favorite things was walking around Lhasa, capital city of the Tibet autonomous region, where he had served as a soldier and then commander of the People's Armed Police Forces in Tibet for 38 years.
"He loved reading maps of Lhasa and walked around whenever he had free time," says Guo's driver Jiang Chenglong. "He knew every corner of the city but now he won't see it again."
Guo died on July 10 of a sudden heart attack.
Four days before his death, Guo flew to the Inner Mongolia autonomous region for a meeting and after that he took a vacation in his home in Chengdu, Sichuan province. He rarely took such a break in the 38 years he devoted to the army and the Tibetan people.
Due to decades of working and living in Tibet, which has an average elevation above 4,000 meters, Guo had been suffering from gout and cardiovascular diseases caused by high-altitude hypoxemia.
He planned to go to the hospital during his vacation in Chengdu. However, he was still busy working during the holiday and took part in a telephone conference on July 9.
"After a day of working he told me that he was not comfortable. I gave him nitroglycerin pills and called the ambulance," recalls Guo's wife, Zhong Ling. "But it was too late. The doctor told me that he was exhausted and should have undergone treatment earlier."
Zhong says her husband's last words were: "I have been working in Tibet for my whole life but I am afraid I can't go back ever again."
"Then he was in a coma and never woke up again," Zhong says.
President Xi Jinping called to express his condolences and declared Guo a role model to inspire other soldiers across the country.
"He was just 56 years old and had served his entire career in Tibet," says Chendrup, vice-chief of staff of the People's Armed Police Forces in Tibet.
In life, Guo was a legend among those who knew him for his commitment to military work and his compassion for people.
Guo was most remembered for his leadership on March 14, 2008, when rioters attacked people in Lhasa, then looted and set fire to the city.