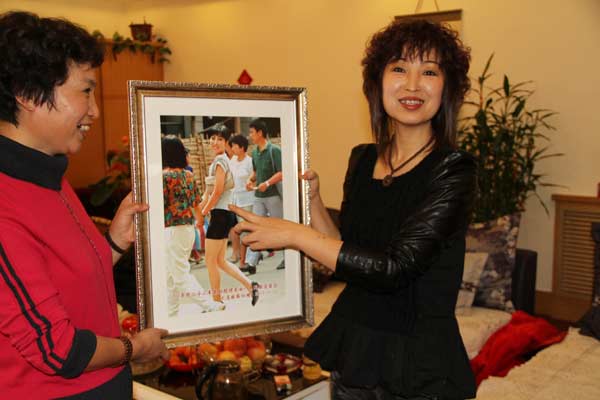 Chen Xiaolu enjoys an enlargement of the photograph on the wall of her living room in Dalian, Liaoning province. Provided to China Daily
A 1991 news picture of a miniskirted mom makes new waves after a Dalian newspaper went looking for the bright-eyed, confident subject, Zhu Chengpei and Zhang Xiaomin report.
A photo taken 22 years ago made ripples in the tranquil life of Chen Xiaolu in Dalian.
It is one of the old photographs released by Xinhua News Agency to review the history of China's reform and opening-up progress. In the picture, a beautiful woman wearing a miniskirt looks back over her shoulder with a smile. She looks very eye-catching among pedestrians on the street.
"It is really good luck for a woman to have such an impressive photo," says the now 50-year-old Chen, who retains her trim figure and enjoys seeing her beauty as a young woman captured in time.
Bordered by the Bohai Sea and the Yellow Sea, Dalian is a major port city in Northeast China's Liaoning province. It has experienced rapid development since China's opening-up to the outside world in 1978.
The photographer, Zhang Xiaolong, says he was trying to take some pictures reflecting the change in common citizens' clothing during the Dalian Fashion Festival in September 1991.
As a reporter with Xinhua, Zhang had traveled across the world. He expected people in Dalian to be much more fastidious about their clothing, compared with residents in other domestic cities like Beijing and Shanghai.
"But in fact, miniskirts were not uncommon in Dalian at that time. It is the infectious smile of the miniskirt lady that endowed the picture with vitality," Zhang says of the vigorous, confident and stylish woman.