From the classroom to the boardroom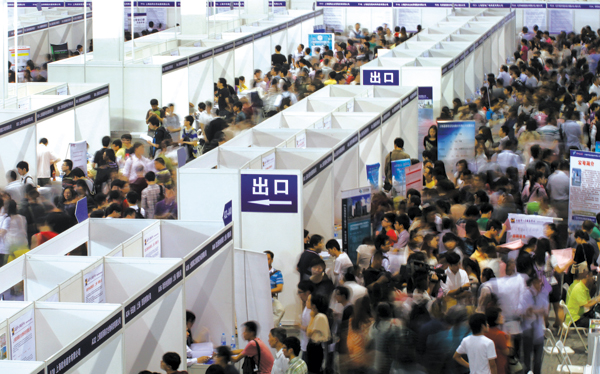 New graduates look for work at a job fair in Shanghai at the weekend. The fair offered about 10,000 employment opportunities at 500 businesses. [Photo/Xinhua]
'Green channel'
He and four classmates formed the company and scraped together a combined start-up sum of 40,000 yuan.
"The zero threshold gave us the confidence to make our business dream a reality. Without it, we would have had to pay at least 10,000 yuan for an agency to find the registration fee for us, and we couldn't afford that," he said.
Wu and his colleagues also welcomed the "green channel" offered by university entrepreneurship centers: Graduates hand over their ID cards, graduation certificates and business plans to a center, which will apply to the industry watchdog for a business license on their behalf.
Wu was prepared to weather some hard times during the initial operating period. He ate simple dishes such as fried rice and eggs for the first few months, and each employee earned just 2,000 yuan a month, the maximum he could afford to pay them.
However, in retrospect, he believes he and his co-founders did not prepare the ground thoroughly enough.
He set a goal of reaching 200 clients, including bars, restaurants and hotels, within one year of starting. "However, I didn't realize that many customers at those places only order Chinese brands such as Changyu, or Dynasty, a Sino-French brand. There's no room for me, despite the quality of my imported wines," he said.
"I tasted hundreds of wines in the two months before I started the company and thought my selections were right for the Chinese market. I believed that passion and diligence would guarantee success," he added.
He preferred not to disclose the company's turnover, but admitted that he still owes his co-founders the iPhones and iPads he had promised as year-end bonuses.
Now, experts are discouraging the unprepared and are keen to emphasize that zero registration fee does not mean zero risk.
"Never expect preferential policies to guarantee entrepreneurial success. Running a business is fairly comprehensive and involves leadership, a good mental attitude, environment and social connections," said Jia Xinguo, principal of Shanghai Value-Plus Vocational and Technical Training School, which specializes in training entrepreneurs.
"The registration fee is just a small part of the total investment in an enterprise, and the policies are small benefits in terms of an entire career. Survival of the fittest is always the principal rule of the market," said Zhang Yusong, a spokesman for the Shanghai Administration for Industry and Commerce.
However, many graduates have been inspired by the heightened competition for jobs. Statistics from the Ministry of Education show that while the number of college graduates has hit a record high, job vacancies are down 15 percent compared with last year, partly because the Chinese economy has entered a period of slower growth.
The employment rate in Beijing was 33 percent as of May 1, while in Shanghai the number was 44 percent as of May 10, according to the cities' education commissions.
At the same time, 82 State-level entrepreneurial cities have spent huge sums to foster potential businesspeople through policies such as subsidized office rentals, free accounting services and also contributing half of the company's social insurance payments for the first two years of operation.
"But I hope college graduates don't feel as though they are entering a no-risk zone when they start a business," said Zhu. "When consulting about starting an undertaking, the first question on most of their lips is 'What policies does the government have?' Overreliance on preferential policies will become a weakness and will lead to poor competitiveness and business adaptability."
In March, Wang Xuanyi, 26, registered a company in Shanghai that provides psychological counseling. She said the policies can create an illusion of starting up without responsibility.
"How can those who have no idea what to do after graduation or who can't find a job start an enterprise and provide jobs for others?" asked Wang, a native of Shenyang, Liaoning province.
"However, for youngsters like me, those with clear ideas and a firm conviction to start a business, have to benefit from the policies as much as possible," she said.
Related:
Marry me as soon as we graduate
Migrant workers earn more than grads
Jobs scarce as record numbers graduate
University doors open for security guards