From the classroom to the boardroom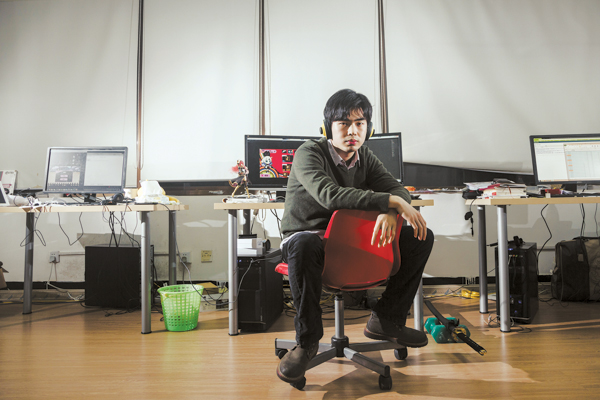 Cai Haoyu, CEO of MiHoyo, in his studio in Shanghai. The computer science major registered an Internet technology company with classmates after graduating last year. Shen Yu / for China Daily
Graduates are being helped to start their own companies. Zhou Wenting reports from Shanghai.
Wu Chaoqi, a 24-year-old Shanghai entrepreneur, is not sure how long his business will survive. He joked that his company's method of delivering wine by moped means that the logistics costs are far lower than those of his competitors. However, his humor underplays a serious problem. "Sure, it saves on expenditure, but also emphasizes an undeniable shortage of orders," he said.

After graduating from college in September, Wu registered his company, but crucially didn't have to pay the usual registration fee. The policy, which was introduced in Shanghai four years ago, was rolled out nationwide last year to encourage and support young businesspeople.
The preferential policy means that young entrepreneurs who set up their own business within two years of graduation are exempt from the minimum fee of 30,000 yuan ($4,900) to register a limited liability company with capital of less than 500,000 yuan. However, the sum must be paid after two years in operation.
The policy has encouraged new entrepreneurs. In the first five months of this year nearly 2,400 college graduates had opened enterprises in Shanghai. In 2010, the number for the full year was 1,882, according to the Shanghai Administration for Industry and Commerce.
The municipality also offers several other incentives as it seeks to boost the number of young entrepreneurs and counter the threat of high levels of graduate unemployment. Meanwhile, China's universities will churn out nearly 7 million graduates this month.
However, some experts have warned that the policies will also encourage a rash of "blind" entrepreneurs.
"In certain districts, people with little more than just a business idea can rely on the local governments to provide office space, financing channels and tutors for the first six months of their business, but who will look after them for the rest of their careers?" asked Zhu Jiang, general manager of the entrepreneurship center at Fudan University's technological park.
Sales and wine are the key words for Wu, a native of Lishui in Zhejiang province. While working as an intern, selling insurance and tourism projects, he attended 100 wine-tasting events for his own pleasure and eventually decided to take advantage of the preferential policies and distribute imported wines.
Related:
Marry me as soon as we graduate
Migrant workers earn more than grads
Jobs scarce as record numbers graduate
University doors open for security guards