Wedding planners learn the ropes to tie the knot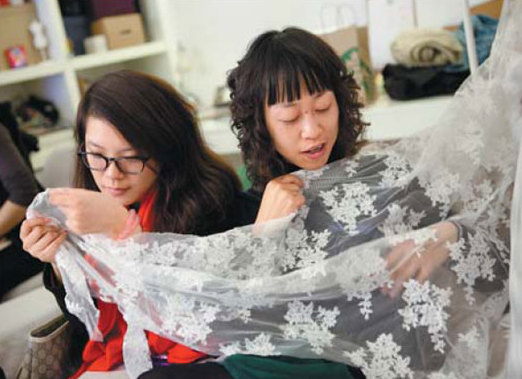 Students study fabric at the Weddings Beautiful China's wedding planner certification program in Beijing. Provided to China Daily
Getting married in the world's most populous country is big business. About $57 billion is spent annually on 10 million weddings in China.
The money goes on pre-ceremony photographs, limousine rentals, wedding gowns and honeymoons. A tenth of the total expense traditionally goes to the wedding banquet, according to the China Wedding Industry Development Report.
About half of the couples getting married now turn to wedding planners, according to Weddings Beautiful Worldwide, a website with information on planning weddings worldwide.
When events and marketing professional Ling Ying decided she wanted to get into the wedding business, she looked to WBW to study wedding planning and receive certification. Not only did Ling go on to found Weddings by Ling in Beijing, she also contacted WBW CEO Gary Wright with a proposal that eventually brought his accredited program to China.
"The main reason why Ling felt it was so important to bring the program to China was because Chinese brides are now demanding better service and yet the industry as a whole was lacking a standard of excellence," says Raul Vasquez, president and an independent licensee of Weddings Beautiful China, and also Ling's husband.
Weddings Beautiful China is a joint venture with Weddings by Ling - a firm that caters to high-end weddings by Chinese couples, expatriates and Chinese celebrities. The program established its flagship location in Beijing in 2011. Another location opened in Shanghai in 2012 and a branch was recently launched in Suzhou, a city known for its gardens and natural beauty.
Although smaller than Beijing and Shanghai, Vasquez says increasingly brides-to-be in Suzhou are requesting high-end wedding planning.
Weddings Beautiful China offers two classes: the certified wedding specialist course (CWS), which made up 90 percent of total enrollment, and the associate bridal consultant course (ABC).
CWS is taught in all of WBW's divisions around the world, which include Africa, Australia, Japan, Malaysia, Mexico, Philippines, Singapore and Taiwan. The two-week course covers the fundamentals of wedding planning, business management, marketing and social media, team work, project management and other "soft" skills to jump-start a career in wedding planning.
"(ABC) is for those who just want to focus on the wedding part of the course and forego the business management part," Vasquez says about the second course offering. "This course is a perfect fit for those who cannot be out of town for more than a week, as students have to fly to our training facilities and stay for the entire duration of the course."