Vowing to be different with the nuptials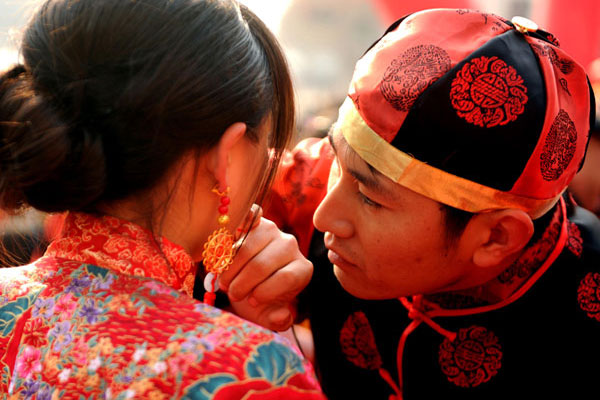 A groom helping his bride to finish her makeup before their wedding ceremony in Zhengzhou, the capital of Central China's Henan province.[Photo/China Daily]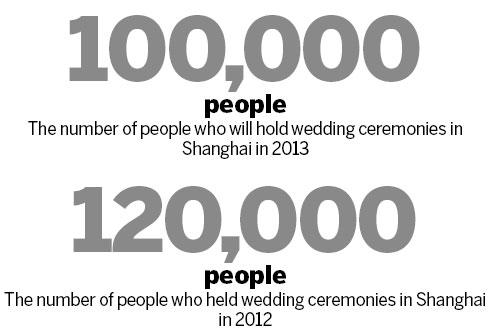 Younger generation seeks to enjoy modern style of marriage ceremony
Wang Xiaoqiang, a 26-year-old white collar worker in Shanghai, doesn't really care that the Year of the Snake 2013 is not regarded as a propitious year for weddings.
"I was told Lunar 2013 is not a good year to get married but that is something believed by elderly people," said Wang.
According to the Chinese Lunar Calendar, there will be no li chun (the beginning of spring, one of 21 four-solar terms) during Lunar 2013. Some Chinese media have quoted Chinese experts as saying that it is "feudal superstition" to say Lunar 2013 will be "a widow year", which means women who get married this year will suffer bad luck.
The reality is the young generation do not take the traditional belief seriously. Experts say there will be no significant effect on wedding-related commerce in 2013.
Wang is busy with matters such as booking pre-wedding photos and a video and looking for a place to hold his wedding banquet for his nuptials in October.
"Many people rushed to tie the knot on Jan 4, 2013, because they believe they will love each other forever if they get married on that day. But news reports said four couples who got married on that day have already divorced. How do you explain that? That day is not in the Year of the Snake," Wang said with a big smile.
The pronunciation of 1314 (Jan 4, 2013) is similar to yi sheng yi shi (love you for a lifetime), making it one of the most romantic days on which to wed. There were 7,300 weddings in Shanghai on that day.
Wang's view is shared by He Lina, secretary-general of the Shanghai Wedding Celebration Association.
"Many people have asked my opinion about the so-called "widow year" and the possible effects on the wedding industry. What I want to say is it is superstition without any scientific support and there will be no significant impact on the wedding industry," she said.
Looking around China, it seems the wedding-related business is not being affected by the "widow year". Chinese media have already reported that in Shenyang, the capital of Northeast China's Liaoning province, and Hefei, capital of East China's Anhui province, wedding banquets to be held during this year's May Day Holiday and the National Day Holiday in October are almost fully booked.
She admitted that there will be fewer people getting married in 2013. However, she said it was not caused by the "widow year". According to He, there will be 100,000 people holding wedding ceremonies in Shanghai in 2013, compared with 120,000 in 2012.
"Many people born during the baby boom of the 1980s have already got married so there will be fewer people getting married in 2013," she added.