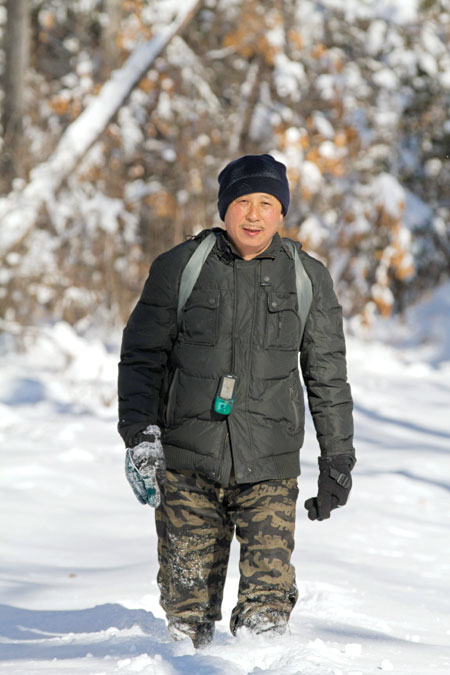 Hunter-turned-ranger Liang Feng'en patrols the forests of Suiyang town, Heilongjiang province. Photos by Wu Yong / China Daily
He used to kill animals, but now applies his knowledge to champion wildlife conservation in the country's Northeast, Wu Yong reports in Suiyang, Heilongjiang.
His eyes are shrewd and calm. His green-and-black GPS device dangles from his coat. He works comfortably in camouflage trousers that are faded with repeated washings.
It would be hard to guess his profession at first glance, but 55-year-old Liang Feng'en is a ranger from Suiyang's forestry bureau. His main duty is to find and record tracks of the wild Siberian tiger and its prey, such as deer and boar. This is essential work for big-cat protection.
Related: Don't bother about being modern
"Snow is my school bell. Winter is usually the toughest season for the big cats, and poaching tends to be rampant in the three months before Spring Festival," says Liang.
He explains that forests in Northeast China are covered by 50 centimeters of snow on average in winter, making it easy for wildlife experts to carry out fieldwork by following prints that animals leave behind. But the same conditions also make it easy for poachers.
Related: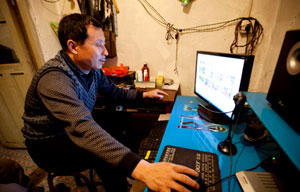 As a well-known hunter in the region 30 years ago, Liang knows all the animals and trees in the mountains. Back then, he didn't understand the magic of this world.
"I had no idea about wildlife protection 12 years ago when I was invited to join the work. And I never imagined that I could give up hunting - my family's way of life for decades," he says.
Suiyang, a small town in eastern Heilongjiang province that borders Russia, is surrounded by richly forested land. The local forestry bureau was one of the biggest timber producers from the 1950s to the '90s.
Liang recalls that most of his friends went hunting in winter 30 years ago, and his father was a very good hunter, too. His family and neighbors were all proud of him because he could bring home wild boar and deer when the whole country was plagued by starvation.
"Good hunters enjoyed respect and were even idolized in the village."
He quickly became an expert hunter himself after finishing his army service in 1982. That fame in the woods even won him a good marriage, as his wife is a meat lover.
However, Liang and the Suiyang forestry bureau became trapped in a crisis in the late 1990s, when almost all virgin forests were chopped down and China implemented intense environmental protection measures in 1998.
Liang says he earned less than 100 yuan (about $12 at that time) for a year, and this dilemma stimulated him to ponder the implications of his old lifestyle.
"I had a vague idea of ecological protection at that time because something must be wrong. And later I got the full picture about the importance of working with wildlife experts."
Many wildlife protection NGOs, such as the World Wide Fund for Nature, came to Suiyang to carry out research with the help of local forestry officials.
Liang was recommended to work as the ranger for WWF because of his rich hunting experience.