As the storm of the financial crisis gathers strength, China's market has shown its governance superior to the chaotic forces at work. The momentum of its economic development has been maintained throughout, and that success was bound to create a need for more human resources. So it is no surprise that Chinese enterprises are increasing their recruitment abroad, an effort focused on high-level overseas Chinese and foreign talent. The call is being answered – by more and more returnees and foreigners seeking to make China a career milestone.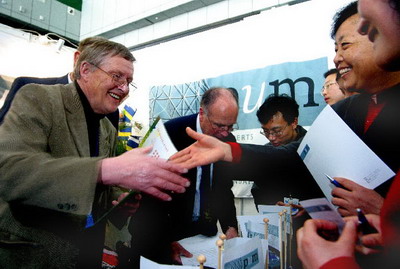 The call of Chinese enterprises is being answered in areas of strategic importance.China Foto Press
China's appetite for resources has extended to people, creating quite a buzz in global human capital circles. At the end of December 2008, 27 Shanghai-based financial institutions conducted a recruitment trip to London, Chicago and New York, putting 170 mid- or high-level positions on the block. During the 10-day trip, they interviewed about 4,000 applicants on site, and some 800 were later sporting their memoranda of agreement with the firms. It all comes as something of a surprise to the talent search agencies.
Wanted: Overseas Innovators
Perks and benefits are the name of the game. Shanghai now offers favorable treatment to overseas financial professionals, including benefits like medical care, housing, and school admittance and enrollment assistance, assures Ji Wenguan, secretary of the CPC Shanghai Financial Work Committee. Their last recruitment trip netted two overseas recruits, now contracted to financial institutions in Shanghai. Meanwhile over 50 others had reached initial agreements with local employers. That is just the tip of the proverbial iceberg.
The Chinese government itself launched an initiative to hire 1,000 top-notch overseas professionals in the final months of last year. Key areas have been identified as talent deficits – either current or projected – becoming the marching papers for scouts to scour prestigious foreign universities and scientific research institutions for related specialists or scholars. Technical and management functions in the financial industry are the hottest areas currently, and those we'd describe as innovators are being sought for many fields. The central government will offer these top guns RMB 1 million each as a post-tax subsidy. Preferential policies like this are expected to make headhunting for overseas Chinese and foreign professionals more successful.
"Many Chinese enterprises want to enhance their human resource pool with overseas personnel because their presence on staff translates into increased profits. Luckily many educated and experienced foreigners have become quite interested in Chinese enterprises," says Larry Wang, president of Wang & Li Asia Resources. His company, now 15-years in the headhunting game, specializes in recruiting bilinguals.
Larry believes this interest in China means the skilled of the world are betting on the country's continued good performance as the financial crisis and its remedies unfold. He points out that while other economies sink into "stagflation" or recession, China's is still growing, albeit at a slower rate of 6 percent. He bets, "If there's any place in the world that is still offering dry land economically and interesting prospects for employment and career development perspectives, it's China."
Homecoming
The huge number of Chinese students studying abroad are one labor pool Larry and his colleagues are tapping. Whereas graduates often sought a short period of employment in their host countries, recruiters expect many will be excited by the prospects at home and want to get into the market as soon as possible. Last February they made a speaking tour targeting students of 10 top-notch MBA programs in American mega cities, such as New York and Los Angeles. The lectures highlighted prospects in various sectors of China's labor market, and the practical business of how to find a job in China.
That was the first time since the year 2000 that the company mounted such a large-scale talent search and speaking tour. They had conducted similar road-shows around 1994 in their startup phase, but the last nine years have been marked by a general fall off in activity, calling for only a couple of speaking tours in a few specific cities.
"This year we decided to pull out all the stops again, principally because the financial crisis is affecting the US employment situation. When an economy is really down, a lot of people get curious about opportunities here, especially the bilingual. So we thought it was time to go," states Larry.
Larry saw significantly more students turning up to hear what recruiters had to say this time. Noticeably, about 60 to 70 percent of participants were from the ranks of China's mainland professionals currently studying or working in the U.S. In contrast, a decade ago their participants were mainly Chinese Americans and other Asians residing in the U.S.
It fits the profile released by the Ministry of Education. An estimate made by the ministry indicates over 50,000 students returned to China in 2008 – double the number of 25,000 four years previous. China began to send students abroad again in 1978 and has registered 300,000 returnees so far, but the number that made their way home in 2008 alone accounts for nearly one-seventh of that total.
We can only guess at the numbers for 2009. The 11th Guangzhou Technology Fair for Overseas Chinese Students was held at the end of 2008, attracting 1,800 Chinese students from 30 countries. The number of participants was up by 10 percent or so compared to the 2007 one that presaged the 2008 stampede.
Participants polled confessed that the staff cuts in foreign institutions turned them back to China. Their original expectations for high salaries haven't survived the experience.
"Students used to prefer staying abroad because of the good life offered by foreign companies, but in these uncertain times no one can expect stability. So more and more Chinese students are coming home," comments Michael Zhang, who himself returned from England in 2005 and currently enjoys the fruits of his timely decision as an employee of an American multinational semiconductor corporation.
Mutual Adaptation
"Although Chinese enterprises and even state-owned companies have shown a tremendous appetite for overseas talent, multinationals remain the first choice for returnees," Larry shares his analysis based on years of experience with Wang&Li Asia Resources.
"The multinational can better appreciate and understand how to optimize the returnee's background with respect to their role in the enterprise," Larry clarified. By contrast, the traditional managing and operating model of most state-owned enterprises disadvantages both the manager and the returnee by imposing circumstances where it is difficult for them to adapt to each other in the short term.
"Although China's professional standards and business practices continue to internationalize, the difference between mindsets presents a real challenge for those with limited or no working experience on the mainland," says Larry. "It will take time to change the organizational culture that dominates most Chinese institutions and enterprises," he adds.
HR professionals confirm the nature of the challenge. An assessment of Chinese talent conducted by Beijing Dongfang Huibo Human Resources Consulting Service Co., Ltd. shows that nearly half of Chinese enterprises polled feel satisfied with their newly acquired returnees, and over 40 percent of state-owned enterprises or state holding companies report a relatively good impression of their home-comers. What's telling is that employers in the fields of real estate, architecture, consulting, law, and accounting – in other words, those that demand high familiarity with the domestic environment – have a low opinion of the value of returnees.
"Many of them seem to think their ability to speak Chinese is the advantage that will put them ahead of local applicants. The fact is they are not familiar with the domestic market," explains Larry. And that happens to be the advantage of mainland professionals. The latter are superior to returnees in terms of a network of relationships, local market knowledge, and an understanding of China's business culture.