China urges more action, unity on climate change
Bonn summit delegation ramps up pressure on developed countries
The Chinese delegation has vowed to put pre-2020 actions on the formal negotiating agenda of the Bonn climate talks to put further pressure on developed countries to deliver on carbon reduction promises, otherwise global cooperation on implementing Paris Agreement will face severe setbacks.
Senior representatives with the Chinese delegation said there is an urgent need to put the agenda on the table, as a lack of concrete action before 2020 from developed nations may dent global confidence in further implementing the Paris Agreement.
"There are only two years to 2020, so we don't have the luxury of time," said Chinese negotiator Chen Zhihua.
"Clearly the gaps are there. If they are not being filled, the gaps will ultimately transfer to the post-2020 period."
Unlike the Paris Agreement made in 2015, where nearly 200 signatories set clear targets to combat climate change starting from 2020, the onus is on developed nations in the pre-2020 Actions, in which it requires developed countries to meet quantified targets to reduce greenhouse gas emissions.
Rulebook draft
Signatories to the Paris Agreement around the world are striving to draft a rulebook for implementing the Paris pact in Bonn, which is expected to be finalized at next year's climate conference.
But the ongoing negotiations face "a crisis of trust" if developed nations refuse to agree to formally address pre-2020 actions during the talks, according to Gu Zihua, another senior Chinese negotiator.
"We're not asking for unrealistic commitment from developed countries. We simply want developed nations to fulfill pledges that have already been made," said Gu.
"Pre-2020 is really a trust-building issue for developing countries," he said, "If they turn down all proposals, then how could developing countries have trust in future discussions?"
China and other developing countries have submitted a request to the UN climate change secretariat to organize an event to commemorate the 20th anniversary of adoption of the 1997 Kyoto Protocol, an earlier key document setting binding targets on greenhouse-gas emissions for the world's leading economies which have accepted it.
As for financing gap left by the United States, China hopes other developed countries are able to enhance their contributions to fill that gap, according to Gu.
"Despite with the US withdrawal, there is still progress being made. Non-state actors in the US can play a role to fill that gap," said Gu. China will continue to make financial contributions through south-south cooperation scheme, he added.
wangyanfei@chinadaily.com.cn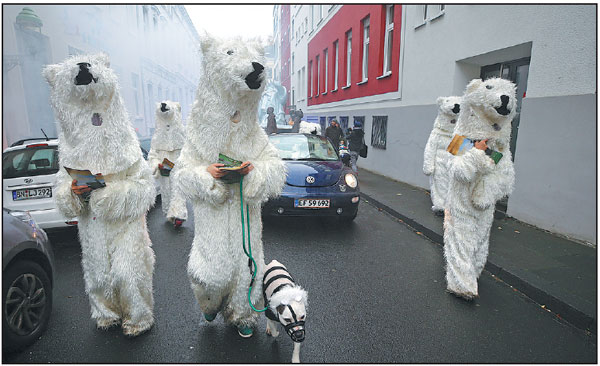 People dressed as polar bears march during a demonstration in Bonn against the COP 23 UN Climate Change Conference hosted by Fiji but held in Bonn, Germany, on Saturday.Wolfgang Rattay / Reuters