Sino-Russian trade set to soar with PVP
Recent launch of yuan-rouble payment versus payment mechanism has wide implications for world economy
Further tangible initiatives highlighting the continued internationalization of the Chinese economy abound, but perhaps one of the most significant was launched only a few weeks ago: the establishment of a payment-versus-payment, or PVP, system for Chinese yuan and Russian rouble trade transactions.
Such a system will immediately improve efficiency and reduce risk for all business transactions between the two economic giants. No longer will there be a need for a "safe and secure" third currency, more often than not the US dollar, and the time and potential cost that could result.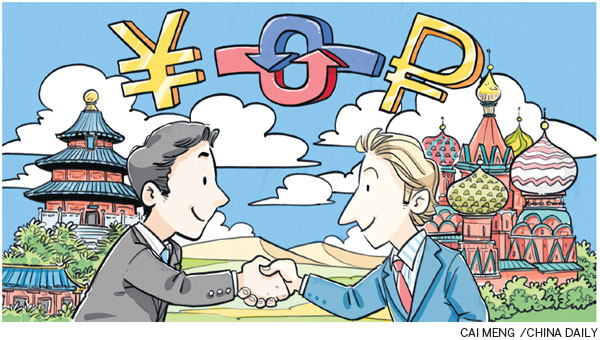 European business and European governments should monitor very closely the impact this Sino-Russian PVP system has on the level of trade and investment.
It is also the intention of the Chinese government to roll out a series of similar PVP systems with other currencies, particularly those where trading opportunities are most attractive. While the Belt and Road Initiative is often cited as a major focus for the further internationalisation of Chinese industry and the Chinese currency, European businesses should note that this initiative is mainly about opening up trading routes with Europe, and Eastern Europe in particular.
For now, Russia presents the obvious first step in any PVP system rollout. China relies heavily on Russia for both oil and gas, for example. Russia also presents an opportunity for a mutually beneficial trading partnership across Asia as well as an important steppingstone into Europe for Chinese companies.
It is, therefore, highly likely that imminent PVP systems could be established between the Chinese yuan and one or more of the currencies of Central and Eastern Europe. China has for quite some time made it clear that trade and cooperation with CEE's 16 countries (the 16-plus-1 group) is pivotal to the success of Belt and Road and the continued internationalization of both the Chinese currency and the economy.
Specifically targeting 16 CEE countries and even labeling this focus as "16-plus-1" provides an unequivocal opportunity for close trade and cooperation. While such innovative PVP systems that settle trade transactions simultaneously in two currencies will benefit companies of all sizes, it is particularly the small and medium-sized enterprise sector that stands to gain the most.
A typical SME's day-to-day challenges come no greater than liquidity management. "Cash flow kills" remains one of the most common reasons behind SME bankruptcy but use of a PVP system to settle business with a cross-border trading partner helps to optimize liquidity and provides a much faster financial conclusion to any deal done.
Of course, the European single currency, the euro, represents an extremely attractive opportunity as part of any yuan-led PVP expansion strategy. Many of the now-19 member countries that have adopted the euro as their only currency can be located in or near Eastern Europe, for example Slovakia, Lithuania, Latvia and Estonia.
Trading deals and all kinds of corporate links between Chinese and Eastern European companies could be stimulated significantly by the prospect of additional PVP systems, given the economic compatibility between China and the Eastern European region. Both are developing and learning fast and both need investment in infrastructure and energy in particular.
But the launch of this Sino-Russian PVP system has far wider implications for the world economy than just trade between the two nations. Such an initiative could prove to be a major step toward eclipsing the US dollar as the world's leading currency. In a very short space of time, a vast new alternative reserve currency zone or zones independent of the US dollar could be established. Certainly, since 1945, economic and monetary might has resided firmly in the United States and in Washington and Wall Street in particular. The US Federal Reserve is still widely seen as right at the top of the economic and monetary food chain. The Fed's public announcements are without doubt studied most assiduously around the world.
But with an acceleration in PVP systems between China and more national trading partners, US dollar hegemony will certainly decline. European companies, and not just those based in countries more likely to participate in future PVP links with China, should take note and begin to adjust their marketing strategies accordingly.
One of the perhaps less obvious benefits of future PVP systems between European nations and China is the opportunity for European companies to trade with larger parts of the Chinese mainland. In addition to focusing on first-tier cities, European companies will be far better placed to maximize trading opportunities with western China and other lesser-known parts of the Chinese mainland. Any PVP system will lower the risk and speed up transaction time, which should reduce any equivocation that exists inside European companies where central and western China is concerned.
Trade between European companies and many of the countries situated close to the Belt and Road routes will also benefit. Central and western China should not just be seen as an increasingly attractive market for many European companies, but also as a gateway to central Asia and even Africa.
Of course, any PVP system rollout will inevitably expedite the internationalization and liberalization of the Chinese currency, which will also enhance the overall trading environment and atmosphere between China and Europe, China's largest export market. The US government and US companies should hold no fear here. While US dollar hegemony will decline, the US currency and economy each will remain one of the most powerful and important and should benefit as well from the increasingly attractive Sino-European business environment.
The rollout of any China-led PVP system is now the issue, and European companies need to be prepared for the launch of a system between their home country base and China very soon, but the speed with which any rollout takes place depends also on the level of proactive partnership posturing between European governments and China. This almost certainly requires European governments to take a closer look at the Belt and Road Initiative and the huge economic game changer that this represents. It was, therefore, rather disappointing to witness a poor participation level by European countries at the Belt and Road forum held earlier this year in Beijing. Heads of some European nations were in attendance, such as Poland, Hungary and Switzerland, but far too many were very conspicuous by their absence.
Sino-European trade generally needs strong leadership at both government and corporate level. It therefore behooves European political leaders to pay more attention to China's Belt and Road Initiative and related developments, such as the recent launch of the PVP system between the yuan and the rouble.
Expect many more related developments between China and central Asian and European nations, such as PVP systems and other projects that increasingly integrate cross-border trade. European nations and their companies could benefit most with slightly more political will.
The author is a visiting professor at the University of International Business and Economics in Beijing and a senior lecturer at Southampton University. The views do not necessarily reflect those of China Daily.