Moutai surges to record high on profit growth
Shares of Kweichow Moutai Co Ltd rose to a record high in Shanghai on Thursday after the Chinese liquor maker posted an impressive growth in third-quarter earnings.
The distiller from the town of Maotai, Guizhou province had earlier reported a 60 percent jump in net profit for the first nine months of the year and 138 percent growth in third quarter earnings on higher sales.
Kweichow Moutai shares rose 6.97 percent to close at 605.09 yuan ($91.3) on Thursday. Its market value has exceeded 760 billion yuan, outnumbering that of China's oil giant Sinopec Group.
In the first three quarters of this year, the company's revenue rose 59.4 percent from the same period a year ago to 42.45 billion yuan. During the same period, the net profit attributable to shareholders reached 19.98 billion yuan, up 60.31 percent from a year ago. The distiller said the continuing hot sales of its products have supported the earnings growth.
The company also had one of the best cash flows and net profit margins among listed Chinese companies, Moutai plans to revitalize its idle funds by entering the finance sector and setting up a financial business entity that involves loans, insurance and asset management.
Li Baofang, general manager of Moutai Group, said the company hopes to forge a new growth area, and make finance the second-largest backbone business of the company. By 2020, the finance operation will account for 15 percent of the total revenues of Moutai Group, Li said.
In the year to date, shares of Moutai have surged about 70 percent, and many agencies have continued to raise their earnings forecasts. China International Capital Co Ltd said in its report on Wednesday that it maintains a "recommend" grade for Moutai, and has increased its target price for the share to 845 yuan per share.
"In the third quarter, Moutai expanded the supply of its spirits to 11,000 metric tons. The high-end spirit market in China led by Moutai is expected to embrace an explosive growth," said Xing Zhiting, an analyst from China International Capital.
"From 2018 to 2020, the prices of Moutai's classic Feitian liquor are expected to increase by 22 percent, 15 percent and 15 percent each year, respectively. The sales channels of Moutai will continue to expand to more smaller Chinese cities and e-commerce platforms."
Meanwhile, shares of many other Chinese spirit companies, including Sichuan-based Wuliangye and Sichuan-based Luzhou Laojiao Group jumped on Thursday, and the benchmark index turned in a positive performance.
In addition, on Oct 31, Moutai airport in the city of Renhuai, Guizhou province will start operation, and it will launch flight routes to most major Chinese cities. Besides some preferential fare prices introduced by airlines, those who fly to Moutai airport on the first day of its operation will get free memorial liquor.
Contact the writers at zhuwenqian@chinadaily.com.cn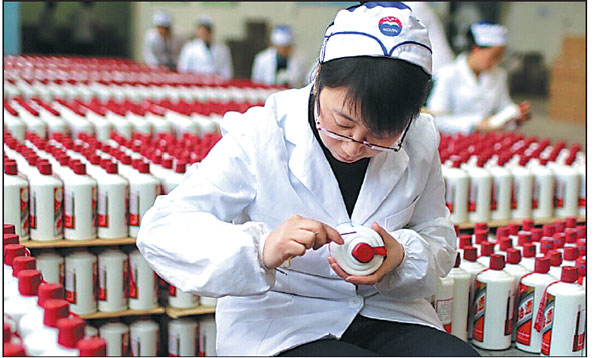 An employee of Kweichow Moutai Co Ltd puts labels onto bottles of the Chinese liquor. Provided to China Daily