Domestic travel sees jump thanks to rising incomes and paid vacations
Chinese are increasingly willing to spend on travel, especially trips around the country.
The number of domestic trips in the first six months of this year surpassed 2.4 billion, up 10 percent over the same period last year, China's biggest online travel agency, Ctrip, reports.
Separately, roughly 62 million Chinese went outside the mainland in the same period, a 5 percent increase.
The agency's report is based on Ctrip's 300 million members.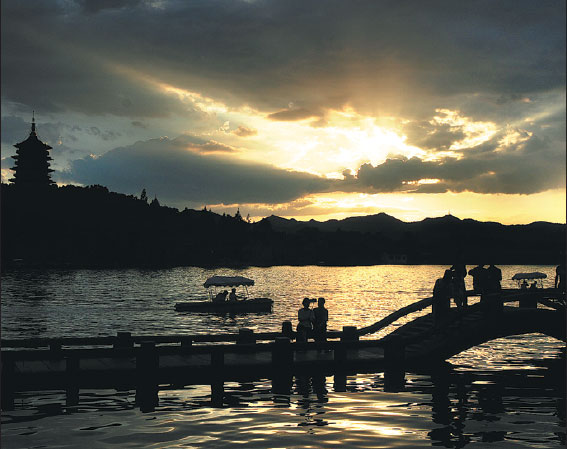 Sunset at West Lake in Hangzhou. The city tops the list of Chinese destinations with the highest tourist ratings. Lian Guoqing / For China Daily
Last year, the domestic travel market saw about 4.4 billion trips, which generated 3.9 trillion yuan ($590 billion) in tourism income, according to the National Tourism Administration.
High-speed rail, flights and roadtrip routes have given incentives to young travelers born in the 1980s and '90s, who favor leisure and in-depth travel experiences, the report says.
Tours featuring gourmet food, culture and cross-country experiences witnessed a 500 percent growth in bookings in the six-month period, Ctrip says.
Bookings for domestic travel were mostly made using travel websites and mobile phone application. They covered more than 700 destinations in 100 cities.
Sichuan, Guizhou, Shandong, Hubei, Anhui, Yunnan, Shaanxi, Shanxi, Hebei and Guangdong provinces were the most popular, Ctrip reports.
Sichuan, Guizhou, Shandong and Hubei each received more than 300 million visitors in the first half of the year.
Guizhou, Yunnan, the Tibet autonomous region and Shanxi witnessed the quickest growth in tourist numbers, at more than 25 percent each.
Yunnan was favored by those who sought leisure, while Hainan was chosen by those who wanted to avoid the winter. Shanghai's Disneyland enchanted many.
A sign that Chinese travelers are more than ready to spend is the increase of flight bookings.
Domestic-flight occupancy reached 84.9 percent between January and June.
"The increasing travel and desire for leisure have made flights a necessity," says Shi Yuduan, a senior official with Ctrip.
Most domestic trips lasted from three to five days, and per-capita expenditure stood at 2,000 yuan.
The Circum-Bohai Sea, the Pearl River Delta, the Yangtze River Delta, Chongqing and Sichuan were the major sources of tourists, thanks to developed local economies and big populations.
Increasing incomes and paid vacations will continue to fuel domestic travelers' enthusiasm, says Shi.
yangfeiyue@chinadaily.com.cn