Trump puts debt-ceiling blame on GOP
US president says he wanted increase in debt ceiling linked to veterans' bill
US President Donald Trump picked a new fight on Thursday with his fellow Republicans, saying congressional leaders could have avoided a "mess" over raising the US debt ceiling if they had taken his advice.
In the latest in a stream of criticisms that could undermine his goals to cut taxes, pass a budget and rebuild infrastructure, Trump sought to blame party leaders if Congress fails to agree to raise the cap on how much the federal government may borrow.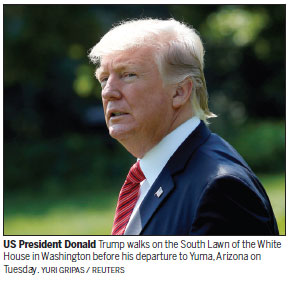 The Treasury Department has said the ceiling must be raised by Sept 29. If not, the government would be unable to borrow more money or pay its bills, including its debt payments. That could hurt the United States' credit rating, cause financial turmoil, harm the US economy and possibly trigger a recession.
Trump said he had advised Republican Senate Majority Leader Mitch McConnell and House of Representatives Speaker Paul Ryan to link passage of legislation raising the debt ceiling to a bill on veterans affairs that he signed into law on Aug 12.
"They ... didn't do it so now we have a big deal with Dems holding them up (as usual) on Debt Ceiling approval. Could have been so easy-now a mess!" Trump said in Twitter posts.
Recent media reports suggest that Trump's relationship with McConnell has deteriorated amid repeated attacks by Trump on the Republican Senate majority leader for, among other things, failing to get a healthcare bill passed.
The New York Times reported on Tuesday that McConnell and Trump were locked in a political "cold war", especially after an Aug 9 phone call that it said devolved into a shouting match. On the 9th and the 10th, Trump assailed McConnell via Twitter, angered by a speech in which McConnell said Trump had "excessive expectations" of Congress.
Trump's salvo ran counter to efforts this week by the White House and McConnell's office to play down reports of discord.
A spokesman for McConnell noted the Senate majority leader had said earlier this week, in an appearance with Treasury Secretary Steven Mnuchin, that the debt ceiling would be raised.
McConnell was "unequivocal" about it, said spokesman Don Stewart. He said McConnell mentioned it again on Wednesday in a statement the Senate leader issued about his "shared goals" with Trump.
Ryan, speaking at a town hall meeting on tax reform at a Boeing plant in Washington state, also said Congress would pass legislation to raise the ceiling in time to ensure debt payment.
White House spokeswoman Sarah Sanders denied there was any need to repair ties between Trump and top Republican lawmakers.
"I think the relationships are fine," she told reporters. "Certainly there are going to be some policy differences, but there are also a lot of shared goals and that's what we're focused on."
Reuters