Rail travel moving full speed ahead
Zhao Xinyue checked the weather. Then, he opted to take the train.
"It's very likely a flight would have been delayed or even canceled," the 28-year-old Beijinger says of his mid-August trip to Guangdong province's capital, Guangzhou.
Rain was forecast.
Zhao had already endured several flight changes this summer, many of which were caused by weather.
"It's fewer than 10 hours by train. That's OK," he says.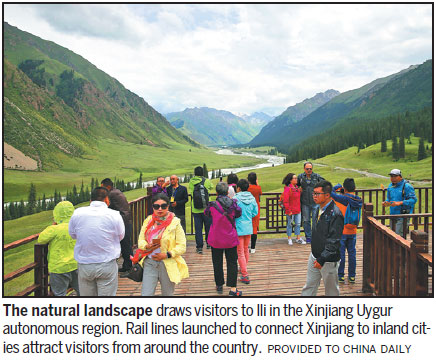 Over 600 million passengers are expected to ride the rails through July and August, roughly 50 million more than during the same period last year, the State Railway Administration reports.
It's cheaper and more reliable.
New rails connect Henan province's capital, Zhengzhou, to Jiangsu province's Xuzhou; Shanghai to Yunnan province's capital, Kunming; and Shaanxi province's Baoji to Gansu province's capital, Lanzhou.
This has given new oomph to the rail-travel boom, says a report by major Chinese online travel agency, Tuniu.
Special intercity tourism trains, featuring catering and entertainment, have been launched for summer travelers.
A tourism train from Urumqi, the capital of the Xinjiang Uygur autonomous region, to Gansu's Dunhuang was launched on July 1. Shaanxi's capital, Xi'an, has opened a special rail tour to Qinghai's capital, Xining, through July and August.
Heilongjiang province has also launched a tourism train to draw Beijingers, while Hubei province is offering such routes to Xinjiang.
The number of train travelers who booked tours through Tuniu rose 113 percent in the first seven months of 2017, compared with the same period last year.
People ages 26-45 represent a major force and account for 40 percent of all rail travelers. Passengers over age 55 account for 20 percent, the report says.
The Yangtze River Delta has seen the most rail passengers. It's expected to receive 116 million this summer, 10 million more than during the season last year, the Shanghai Railway Bureau reports.
"The area has a developed economy, abounds in scenic spots and has a developed rail network, so travelers are willing to go," says Tuniu publicity manager Zhao Huan.
The region will run 76 special tourism trains to every corner of the country, which will add momentum to the train-travel trend, Zhao says.
Acclaimed mountain-and-water resorts and summer getaways are the most popular destinations.
The top destinations in or near the Yangtze Delta are Beijing; Yichang in Hubei; Shanghai; Changzhou in Jiangsu; Hangzhou, Huzhou and Ningbo in Zhejiang province; Shenzhen in Guangdong; and Chengde in Hebei province, the report says.
Long-distance favorites from the region are Guilin in the Guangxi Zhuang autonomous region; Xiamen in Fujian province; Sanya in Hainan; Qinhuangdao in Hebei; Lhasa in the Tibet autonomous region; Xi'an in Shaanxi province; Qingdao in Shandong province; Kunming in Yunnan province; Baishan in Jilin; and Lanzhou.
Travelers can also hop aboard trains that head abroad.
The rail line from Xi'an to Kazakhstan welcomed its first group tour on July 3.
Rails connecting China to Thailand and Myanmar are under construction.
yangfeiyue@chinadaily.com.cn