Ctrip to help tourists shop Canada
Canada has many world-class product and brands, while China sends many tourists around the world.
That reality provides a broad base for cooperation between the two countries, exemplified by China's leading travel agency - Ctrip.com International Ltd - entering Canada with its global shopping platform.
"With the growth of Chinese overseas tourists and the promotion of national spending power, the scale of overseas tourism shopping will continue to show an upward trend, " said Grace Yu, president of Global Goal Marketing Solutions, Ctrip's agency in Canada.
"To adapt to this trend, Ctrip launched the global shopping platform in Canada," Yu said at a ceremony to mark the occasion on Aug 5 in Toronto.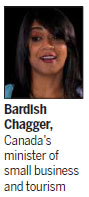 "In the past few years, Ctrip has been actively participating in and supporting Canadian national tourism affairs," said Bardish Chagger, Canada's minister of small business and tourism, who attended the launch event and recently traveled to China.
"In the future, we hope that both sides will carry out more in-depth cooperation in the areas of destination information sharing, destination cooperation recommendation and jointly publish big data reports. In the coming year of 2018, China's tourist market in Canada will continue to grow steadily."
According to the minister, the nations have strong personal connections. More than 1.5 million Canadians can trace their roots to China. Mandarin is the third most spoken language in Canada, after English and French.
"The strong connection offers great opportunities for growth; last year we welcomed more than 610,000 visitors from China - up almost 24 percent over 2015, and we expect even more this year," Chagger said, adding that Canada is opening seven new visa application centers across China to accommodate growing demand.
Since 2012, China has maintained the position of the world's largest outbound tourism market. With the growth of China's economy and changes in tourism and lifestyle, the enthusiasm of Chinese tourists for traveling and shopping abroad is increasing rapidly.
Chinese tourists' strong purchasing power has driven tourism and economic development in many countries.
According to the World Travel Organization global outbound tourism industry survey for 2016, China is far ahead of other countries and regions in both the number of outbound tourists and total overseas spending.
In 2016, overseas spending of Chinese tourists reached US $261 billion, representing 12 percent year-on-year growth and accounting for 20.9 percent of total global tourism spending, No. 1 in the world.
"Ctrip will enter Canada and bring targeted Chinese tourists to Canadian shopping malls, luxury stores and outlets and actively boost Canada's economy and tourism development," said Zhang Jianan, Ctrip's regional director in North America. "By analyzing tourists' travel patterns and shopping behaviours based on big data, we will send out promotional information to targeted tourists."
Ctrip, founded in 1999 and headquartered in Shanghai, has successfully integrated high-technology with traditional industry to provide travel services to more than 250 million members.
The company's shares were listed on the Nasdaq Stock Market in New York in December 2003. Today, Ctrip has occupied the leading position in the online travel service market and is the world's second-largest travel services company.
renali@chinadailtusa.com
(China Daily USA 08/10/2017 page2)