Wear it well
The CEO of Carter's plans a new era of growth in China for the children's clothing brand that has stood the test of time in the US
Michael Casey knows all about brands that are timeless. After all, he works for one.
The chairman and CEO of Carter's Inc reflects on the iconic children's and baby-wear labels, and stresses it is all about softness.
"Our clothes wash well year after year after year," Casey says during a trip to Beijing. "We've had letters saying how sweaters have been handed down from generation to generation.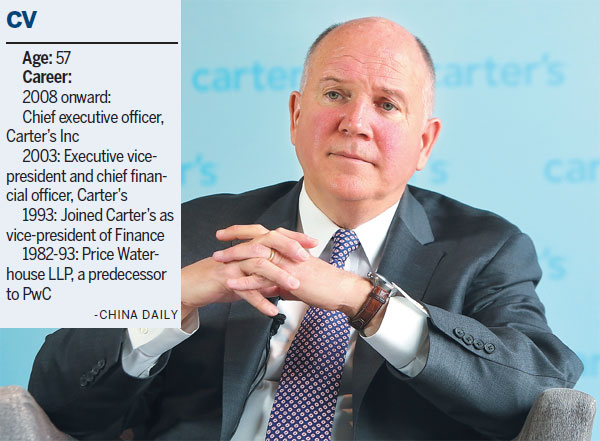 Michael Casey, chairman and CEO of Carter's Inc, says that he has been happy with the company's performance in China. Provided to China Daily
"We had one, saying a pink sweater had been worn by grandmother, mother, daughter and grandchild when they were toddlers. It had been handed down for 40 years," he adds.
Tradition is everything for Casey, who popped over to the Chinese capital to visit a newly opened store.
It was a long way to come from the company's headquarters in the United States city of Atlanta, Georgia. But then, Carter's has been doing business in China for more than 20 years.
"A good portion of our products are sourced here, particular baby apparel, which is manufactured in China," Casey says.
Founded in 1865, Carter's has become a truly international business. In the US, the company has more than 18,000 retail locations, including 1,000 directly owned stores.
Overseas, it has 800 retail shops in 60 international markets. In China, it has nine stores and plans to open more than 40 in the near future.
Indeed, expansion has paid off for the children's clothing company.
Data released by Carter's showed that first-quarter net sales were $733 million (624 million euros; £558 million), a 1 percent increase compared with the same period last year, according to the group's corporate website.
"As for China, we have been happy with our performance," Casey says.
In a far-reaching interview with CHINA DAILY, he talks about the company's online strategy in China, choosing the right locations and the OshKosh B'Gosh brand.
What is Carter's presence in China?
We have a history of doing business here, mostly from our US website, which was launched in 2010. We saw strong demand after launching on Tmall (the online shopping center owned by Alibaba Group Holding) in 2015, and it has been very successful. Now, we're starting to open up stores in the country.
How is the company performing here?
Well, it's early days, but we are very happy with the performance. Last year was our first full 12 months on Tmall with the Carter's brand. We recently received a special recognition award by Tmall for being one of the most popular labels in children's apparel.
We have also opened a new chapter with Pou Sheng International (Holdings) Ltd, our strategic partner. We opened nine Carter's stores in the fourth quarter of 2016, and our plan is to have at least 40 more in the future.
Since you are planning to open more outlets here, what does the future hold for Carter's in China?
We believe this will be at least a $100 million opportunity during the next five years. We're not trying to go fast, we're trying to do it well and make sure we understand what is important to our Chinese customers.
There is no shortage of examples of companies that rushed into China and failed.
Many were very large, successful companies. We have done our homework, we have found good partners with Alibaba and Pou Sheng. We will look to them for guidance when it comes to Chinese consumers.
So, China could be the largest market for you outside of the United States?
Well, outside of North America. We have a very successful business in Canada. The two largest markets of growth for Carter's during the next five years are Canada and China.
How do you choose locations here?
Right now, the focus is on first-tier and second-tier cities, so we are seeing strong performances in Beijing and in Shanghai. The reason we partnered with Pou Sheng is that they are managing more than 8,000 retail locations for Nike, Adidas, Skechers and Levi's.
We look to them to guide us to the retail locations. I saw the Beijing stores while I was here and they were beautifully executed. So they are doing a very good job in finding great real estate locations.
How do you want to position your brand in China?
It's there to appeal to everyone. It's a highly valued brand in the United States that is very affordable. We do business with all the large retailers there, such as Walmart, Target, JC Penney and Macy's. We are the largest supplier of young children's apparel to the biggest retailers in the US.
What drives sales volume in your segment of the market?
In China, the children's apparel market is highly fragmented. Balabala is the largest, with 3 percent of the market share. But to be fair, the brand is not a baby and toddler apparel label, as it's geared toward older children.
What we saw on our US website, is that China is the No 1 market outside of the United States. We were able to see what consumers were responding to and their favorite was baby apparel. We try to understand where the market is and adapt to that.
You have multiple brands under the Carter's Inc umbrella. Will you bring over more labels to China?
Yes, I hope so. OshKosh B'Gosh is our other major label, which has been around for nearly 125 years and focuses on the toddler segment. Carter's is in baby apparel, so it's nice to have these two complementary brands that serve the needs of young families.
The whole focus of both brands is what we refer to as "birth to bus". This means they will serve families from that first night home from the hospital to the first day on the bus, as well as all the years in between.
How are you going to approach the market here, and will you design clothes just for Chinese shoppers?
In short, yes. There will be products which will be tailored especially for them. One thing we have learned during the past couple of years is that due to the cold winters, there is more demand for outerwear.
Winters here are much colder than in many parts of the United States, so some of the clothes will be tailored. But my guess is 80 percent of the products we manufacture for customers around the world will be relevant here.
What was the biggest challenge you faced in China?
The key was finding the right locations for our stores here. You need to have the right retail center - the right space. Those are the two most challenging things and the most important.
Carter's has acquired Skip Hop, a broad brand that sells strollers to bath toys. How will you sell the label here?
We are already doing business on Tmall. Our next focus is how we could create "an experience" within the store for customers.
We are working with our Skip Hop partners to decide how we relate that special experience with the brand.
wangzhuoqiong@chinadaily.com.cn