Donor inspires with free blood sacrifice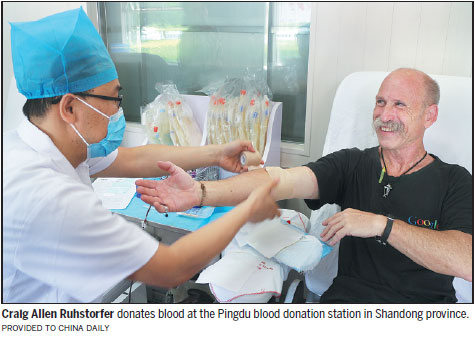 At the end of last month, Craig Allen Ruhstorfer offered another 400 milliliters of blood, unpaid, to a donation service station in Pingdu, a county-level city in Shandong province.
The 59-year-old teacher and donor, born in the United States, is also known by his Chinese name Liu Tianxin, and has become a familiar face to the staff at the blood donation station.
"He has been offering blood donations at our station since 2007 and he has been awarded three blood donation certificates," said Dong Yongguang, a staff member at the Pingdu donation station.
Ruhstorfer has been donating blood, twice a year, since 2003 when he worked as an English teacher in the eastern coastal city of Qingdao. To date, he has donated 28 times or 11,200 ml of blood.
Not only is he an unpaid donor, but Ruhstorfer also provides funding for 22 Chinese children. This started after he met a child in 2003 whose family was in difficulties. He gave money for the child to go to school, and his good deed led to more contributions to help other children.
The eldest of the beneficiaries is now 25 and he invited Ruhstorfer to his wedding as a family member.
The youngest one is 9 and still in elementary school in Henan province.
"One of my 'daughters' has entered her junior year and one of my 'sons' has been admitted to the well-known Pingdu No 1 Senior High School this year," said Ruhstorfer cheerfully.
"And I hope all my children can attend universities and live happy lives."
He worked as a nurse in Michigan before coming to China to become a teacher.
Comfortably fluent in Chinese, he has no barriers in daily communication. He teaches at Shangqiu Normal University, based in Henan province, and often takes the train to visit his students in Qingdao during the vacation, donating blood at the same time. Often, he also takes students to donate.
Ruhstorfer earns about 7,000 yuan ($1,035) every month, not enough to cover the school fees for his children. "I decide to sponsor their tuition or room and board according to the income of their families," Ruhstorfer said.
"Ruhstorfer often takes his children to our service station so he can buy them gifts after donations," said Jiao Haiyan, a staff member at the Pingdu station.
He lives frugally.
"I don't smoke or drink, or eat at expensive restaurants. I take the slow train because the tickets are cheaper. And this shirt I have worn for years and I will be wearing it as long as possible."
He received Golden Awards for blood donation in 2014 and 2015.
"As a foreigner who can insist on donating blood without payment, Ruhstorfer fully reflects a love without borders and is really admirable," Dong Yongguang said.
xiechuanjiao@chinadaily.com.cn