Remarks from President Xi Jinping
"For Hong Kong, the focus is not whether the 'ONE COUNTRY, TWO SYSTEMS' principle will change or not, but how to implement it comprehensively and accurately."
"Every generation of youths has its own historic missions and opportunities. Contemporary youths of Hong Kong should seize the historic opportunities and choose the right path forward to serve Hong Kong and the country."
"The (PLA) garrison (in Hong Kong) is an important embodiment of national sovereignty, an important force to safeguard 'one country, two systems', and an important cornerstone of Hong Kong's prosperity and stability."
THE PRESIDENT PARAPHRASED
Hong Kong people have made tremendous contributions to the country's reform and opening-up in the past decades, which will never be forgotten by the central government and the whole nation.
New situations and new problems emerging in practice should be treated in a correct and reasonable manner, and ways must be found to solve the problems. When difficulties are overcome and problems solved, progress is made in the practice of the "one country, two systems" principle.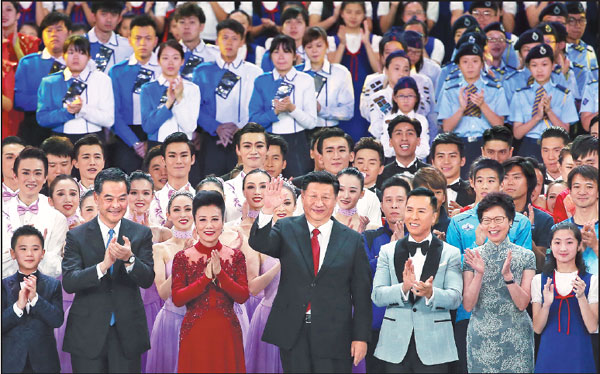 President Xi Jinping joins the chorus after the grand variety show on Friday at the Hong Kong Convention and Exhibition Centre as part of the event celebrating the 20th anniversary of Hong Kong's return to the motherland.Edmond Tang / China Daily