Sports fanatic puts Tibet first
From Qomolangma to five-a-side finals, dedicated footballer and mountain guide Dainzin Norbu proudly represents area
Dainzin Norbu has been a busy man recently. As a mountain guide, his main job is climbing the high altitude, snowy peaks of the Tibet autonomous region, but the 29-year-old Tibetan can also be seen on the soccer pitch. This is a more frequent occurrence as of late, with China's National Games approaching.
On May 22, Dainzin reached the peak of Qomolangma, known as Mount Everest in the West, as a mountain guide for the sixth time. Standing 8,844 meters tall, the peak is the world's highest. But with little time for celebration, he had to travel to Chengdu, capital of Sichuan province, to prepare for a five-a-side soccer tournament in the southwest city, part of a mass sports program for the 13th National Games of China.
From June 1 to 4, he represented Tibet in Chongqing, proudly wearing his region's team jersey as they finished in second place in the southwest zone division. He then returned to Lhasa a few days later.
The example of Dainzin, scaling the world's tallest peak then playing soccer for his region at the highest level illustrates the fearlessness of people from Tibet. A life like this, with one foot on the snowy mountains, and the other on the soccer pitch, might seem daunting to some, but it is what Dainzin knows and loves.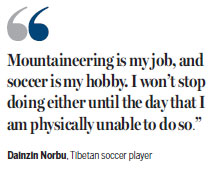 He took an interest in soccer long before he started mountaineering. Born in Xigaze's Gyangze county, he spent his middle school years in Jinan, East China's Shandong province, at a school that had a soccer pitch. It was there at age 12 that his love affair with the sport began, and soccer has been part of his life ever since.
"I've even played soccer at the Qomolangma base camp," Dainzin said. Now in Lhasa, he usually plays soccer with his friends after work. They have no official organization and no funds to support the team, but that does not stop them from taking their game on the road to other parts of China.
He recalled a game from last year that was particularly memorable. It was between "the old men" from Gyangze and "the old friends" from Chongqing. Dainzin led the former, which had an average age of about 45, and they were level at 5-5 going into additional time.
"We scored the winning goal in the dying moments of the game and won 6-5," Dainzin said, smiling. "I had a cramp in my leg and could hardly walk after the game."
Dainzin remembers all of his team's victories, but not all of his goals. "As long as we win the game, I am happy. It doesn't matter if I score."
He said soccer requires a spirit of teamwork, which is also true of mountaineering.
"There shouldn't be any individual on the mountain; everything should be 'team first'," Dainzin said.
Besides the danger, mountain climbing has also created a lot of special memories for Dainzin.
"I was born in May, which is a perfect time of year for mountaineering, so I spend my birthday on the mountain every year."
Dainzin reached the top of Qomolangma on his birthday in 2013. "Looking at the clouds and sky beneath me, and hearing my teammates congratulate me over the intercom made my birthday truly unforgettable."
As opposed to competitive sports, mountaineering involves no spectators or support, but it requires just as much commitment and determination.
"The Tibetan Mountaineering Team is the main force of Chinese mountaineering, so we acknowledge our responsibility," he said. "Just like playing soccer, we are amateurs, but as we are representing Tibet, we always do our best."
During the southwest regional preliminaries for the National Games, the Tibet soccer team exceeded expectations. Three years ago, Tibet didn't register a single win. But this time, with almost the same lineup, they made it to the finals.
However, defeat in the regional final meant Tibet failed to reach the national finals, which Dainzin regretted.
"In the last few minutes, we went all out, but our opponent caught us on the counterattack," he said. "It might be the last chance for this group of players to participate in the National Games."
But Dainzin said he won't give up either of his favorite sports. "Mountaineering is my job, and soccer is my hobby. I won't stop doing either until the day that I am physically unable to do so."
Xinhua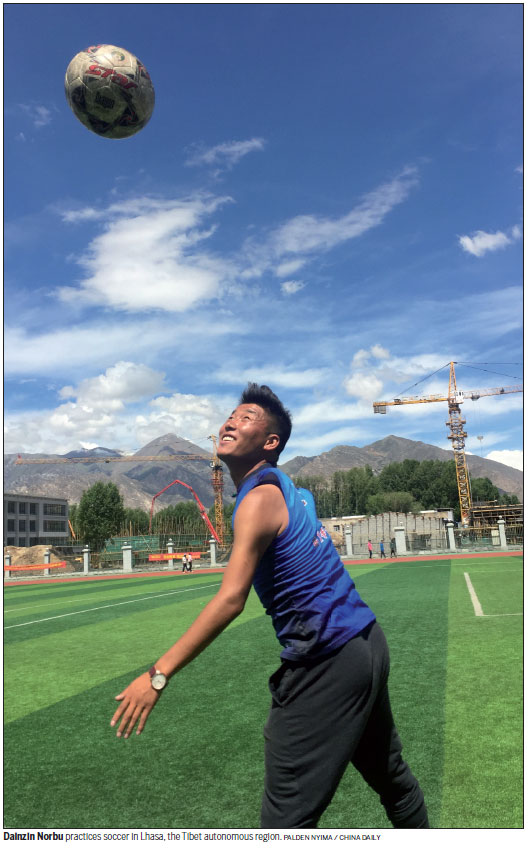 (China Daily 06/23/2017 page5)