Domestic airline rises to Belt and Road's call
Shanghai-based China Eastern Airlines has operated more than 270 flights between Shanghai and Prague since the flight route connecting the two cities opened.
The average occupancy rate for the route is above 80 percent, another indication of the huge business potential in the Belt and Road Initiative that seeks to expand intercontinental infrastructure.
In 2014, China Eastern operated 118 flights to 19 nations and 38 cities involved in the initiative.
These figures grew to 128 flights to 20 countries and 41 cities in 2015, before increasing further to 131 flights to 21 countries and 45 cities in 2016.
China Eastern said that its total capacity in the countries and regions involved in the Belt and Road Initiative has increased more than 45 percent in the past three years.
The State-owned carrier said it will be supporting the initiative by developing "a Silk Road in the air": a flight network with Shanghai as its core hub. Kunming, Yunnan province and Xi'an, Shaanxi province will act as secondary hubs, with Beijing being a pivot.
According to China Eastern's plan, Xi'an will reprise its role as the starting point of the ancient Silk Road, albeit in the air.
The airline has already launched long-haul international flights from Xi'an to Sydney and Moscow, with new flights to St. Petersburg, Irkutsk, Prague, Vancouver and Saipan expected to debut this year.
"The development of the Silk Road in the air is an all-around opening-up strategy. It requires the development and internationalization of various aviation sectors such as manufacturing, transportation, maintenance and finance," said Liu Shaoyong, chairman of China Eastern.
To realize this goal, China Eastern said it has retired more than 100 aircraft from its current fleet - the average age of its planes is less than 5.5 years - and has replaced them with newer models.
The airline also strives to achieve a healthier capital flow through market and capital restructuring. As a result, its listed arm's debt-to-asset ratio decreased from 115 percent in 2008 to less than 75 percent currently.
China Eastern is one of the country's top three airlines. It has established routes to 1,062 destinations in 177 nations and regions, serving more than 100 million passengers every year.
wang_ying@chinadaily.com.cn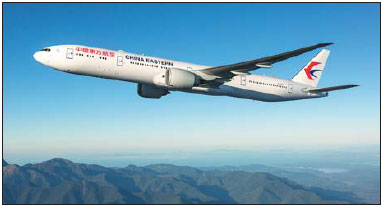 China Eastern Airlines' total capacity in countries and regions involved in the Belt and Road Initiative rose more than 45 percent in the past three years.Provided To China Daily