Rocket launch puts NZ in space race
WELLINGTON - A private New Zealand-based company joined the exclusive space-race club on Thursday with the successful launch of a Rocket Lab test craft named Electron.
The rocket blasted off from the company's facility at Mahia, on the east coast of the North Island, to end three days of launch attempts aborted because of the weather.
"Made it to space. Team delighted. More to follow!" aerospace company Rocket Lab tweeted as New Zealand became the 11th country to launch into space.
It was the world's first successful launch from a private site, and was seen as a further advancement in the move toward private enterprise carrying small satellites and other cargo toward the stars.
"In the past, it's been countries that go to space, not companies," said Rocket Lab founder and chief executive Peter Beck.
"We're one of a few companies to ever develop a rocket from scratch and we did it in under four years.
"We've worked tirelessly to get to this point. We've developed everything in house, built the world's first private orbital launch range, and we've done it with a small team."
However, while the rocket reached space, it did not reach orbit.
"We'll be investigating why, however reaching space in our first test puts us in an incredibly strong position to accelerate the commercial phase of our program, deliver our customers to orbit and make space open for business," Beck added.
The 17-meter rocket - which uses an engine with 3-D-printed and battery-powered components - is said to have reached speeds of more than 27,000 kilometers per hour during the two-and-a-half-minute flight.
Agence France-presse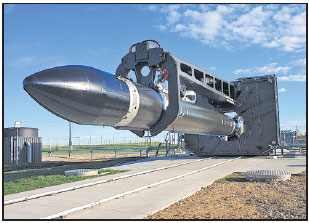 The Electron rocket is moved onto the launchpad on the Mahia Peninsula in the North Island of New Zealand on Thursday ahead of the flight.Provided By Associated Press