Port city banking on nostalgia
Hopes ride on building a spiritual haven for overseas Chinese in Shantou's historical quarter
"The streets there looked just like our own neighborhoods; they gave you a very familiar feeling, like going home," recalls Beh Jing Yi, a third-generation Malaysian-Chinese, of her visit to the port city of Shantou in 2016. The city is the commercial capital of the region of Chaoshan (潮汕 cháoshàn) in northeastern Guangdong province, formerly known as "Chao prefecture" (潮州 cháozhōu) or Teochew in the local dialect, and it was the first time Beh's family had returned to China since their ancestors had emigrated at the start of the last century.
"As long as you spoke Teochew you could go anywhere, and there were congee stands on the streets similar to the ones in Malaysia, but with more variety; it tasted like our grandmothers' food," she says.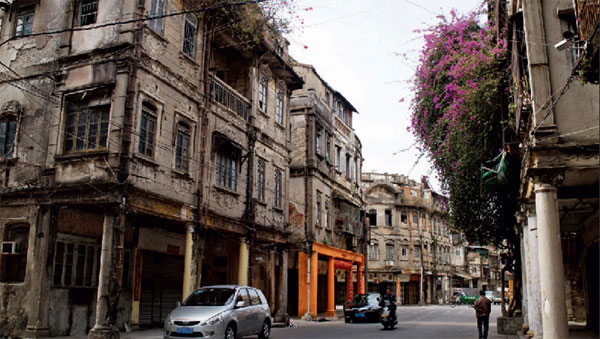 Old-style buildings, qilou, can still be seen on the old streets in Shantou, Guangdong province. Provided to China Daily
Shantou's officials might be glad to get an endorsement like Beh's: At the end of last year, they embarked on a project to preserve the city's decayed historical quarter, known as "Little Park" (小公园 xiǎo gōngyuán), as a "spiritual home" for overseas Chinese of Teochew descent who might be tempted to visit the region and make investments that will boost its sluggish (for China) economy. As one of the colonial treaty ports established following the Second Opium War (1856-60), Shantou, then known as Swatow, was China's third-largest port after Shanghai and Guangzhou and the port of departure of the Teochew diaspora, a global community of about 10 million people including two former prime ministers of Thailand and Hong Kong's richest man, Li Ka-shing. In 1980, it became one China's five original special economic zones meant to lead China's economic transition by funnelling in foreign investment, including investment from the diasporic Chinese.
However, unlike fellow special economic zones such as Shenzhen or Xiamen, Shantou's economic promise never took off. The city was briefly famous in the 1980s and '90s for the waves of overseas Teochew tourists arriving to seek long-lost relatives or fuel their nostalgia, but since the early 2000s, interest has waned.
"The problem is that the older generation of emigrants are dying off; they came to visit family and walk around streets they remember from their childhood, but for the younger generation there's nothing but decrepit buildings," says a staff member surnamed Li at Little Park's Shantou Customs History Museum. While a report claimed that up to 20,000 overseas Chinese still visit the neighborhood every year, Shantou locals are skeptical.
"I haven't seen any in years," says a shopkeeper surnamed Zhuan, whose business is steps away from the Overseas Chinese Hotel.
"It's not an economically vibrant area, and we don't have tourist sites or well-developed transportation," Li explains, referring to the fact that the region had few rail links to cities outside the Guangdong-Fujian are a until 2013 and still has no direct trains to any city north of the Yangtze River (though it does have direct flights to places like Bangkok and Kuala Lumpur, where the diaspora has settled). "So we have to ask, what's an advantage that we do have?"
Little Park certainly fits the bill: With an area of two square kilometers, it is one of China's largest remaining historical treaty port districts and largest collection of buildings of a style known as qilou (骑楼qí lóu), characterized by recessed walkways on the first floor that protect pedestrians from the elements. Built in the 1920s and '30s by diaspora Teochew, who tried to protect their capital from the Great Depression, the neighborhood contains many visual elements that, as Beh noticed, make it strangely reminiscent of an overseas "Chinatown" found within China.
Laid out with a traditional Chinese pavilion at its center, encircled by qilou adorned with colonial-style crown mouldings and Romanesque arches, the architectural hybridity of Little Park is evocative of overseas Chinese enclaves developed in the same era as far away as Vancouver or Manila. Family-run shops, selling fragrant Chinese medicine and dried ingredients, jut out from tenement rows like in New York's Chinatown or Hong Kong, and even their signs are etched in red and gold traditional Chinese characters in the calligraphic "Regular Script" made iconic by Hong Kong's neon signs and contrasted by mainland aficionados against the "ugly" Heiti typefaces ubiquitous in their own cities.
However, when the original property owners left China again during the Japanese occupation and, later, the Communist revolution, most of the neighborhood's buildings - hotels, trading company offices and private residences - were abandoned. Except for a handful that have been returned to private ownership, none have been maintained in the decades since. Today, most are classified as "at-risk structures" in danger of collapse and are occupied by just a smattering of residents and shops renting out the ground floor. Residents say that, in some cases, authorities cannot trace the descendants of the original owners to get approval for renovation, or can't sort out the tangle of competing property claims between owners' families and the enterprises that occupied the buildings during land reform movements in the middle of the 20th century.
Guangdong Party Secretary Hu Chunhua came to survey the city in August. Among his proposals, he brought up the term "spiritual home", the idea that Shantou's growth can come from fostering the diaspora's emotional attachment to the city.
Li says: "In this way, it's like an 'ancestral temple' where overseas Chinese can come and see their culture, these cultural elements they took to those communities abroad and made flourish - it started here, and it's attractive because it's not lost or decaying, but it's something the locals value, that's continuing to improve."
In November, after Hu's visit, the phrase "protecting and animating heritage architecture in Little Park" made its first appearance in a report from the 11th Party Congress in Shantou, and two buildings, including the iconic Shantou Hotel built in 1933, now have new facades and scaffolds strung with slogans like "Shared Homeland, Shared Memories". The street in front of Shantou Hotel is also slated to be redeveloped for commercial and residential use in June this year. But to property owner Norman Lee, the fight for Little Park is just beginning.
Lee is a Hong Kong concert pianist of Teochew origin and present owner of Shantou's Xiang Yuan, a European style mansion his grandfather completed in 1928 after making his fortune in business. The family moved to Hong Kong in the 1920s and, though provincial policy mandated the return of diaspora property to owners in 1991, it took the family 25 years to finally evict the textile firm that had been renting it.
With the property back in his control, Lee began to renovate the estate in 2015 and reopened it at the start of this year as a private piano museum. He also plans to host film and music festivals there in the future, but believes that making a community for overseas Chinese will take more than just a face-lift.
Courtesy of The World of Chinese, www.theworldofchinese.com
The World of Chinese